---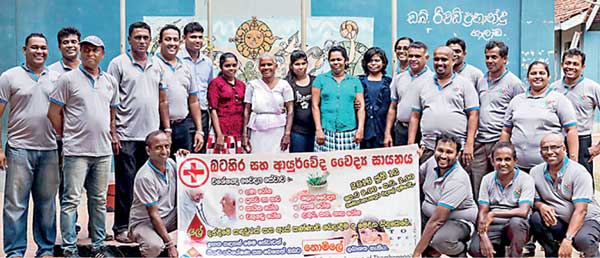 Recently Wanathawilluwa experienced its first large-scale medical camp. The event was organised and sponsored by the Business League of Thampanni society to aid the resident victims of the recent floods.

The local society, comprised of members from the plantation and tourism sectors, sponsored the ambitious event that included both Western and Ayuvedic specialist doctors. Due to the remote location of the area and the expense, families rarely have an opportunity to see specialist doctors.
The event was held at the Bandaranaikepura MV School grounds with the assistance of the principal and 30 student volunteers. Doctors were setup in classrooms and tents that were provided for the purpose of the medical camp. There were over 70 people who donated their time to help things run smoothly.

Twenty doctors from the Kandy Hospital volunteered their valuable time and services which included specialists in obstetrician and gynecology (VOG), eye, ENT, kidney and paediatrician along with 10 support staff. All testing services and medications were also donated by the Kandy Hospital thanks to hospital Director Dr. Rathnayake.

Three volunteer Ayuvedic doctors provided herbal medicines and treatments. These remedies were prepared and given to patients free of charge. Dr. Buddhika Raddalgoda (a member of the society) of Pasyala Ayrveda Osu (Pvt.) Ltd sponsored this section.

In addition to the medical doctors, there was a blood donation drive. The school hall was converted into a blood collection centre where 49 units of blood were collected by the Puttalam Blood Bank. Also, with thanks to Dr. Pallihakkara and Rasika, who sponsored an eye clinic, 400 pairs of eyeglasses were distributed.