---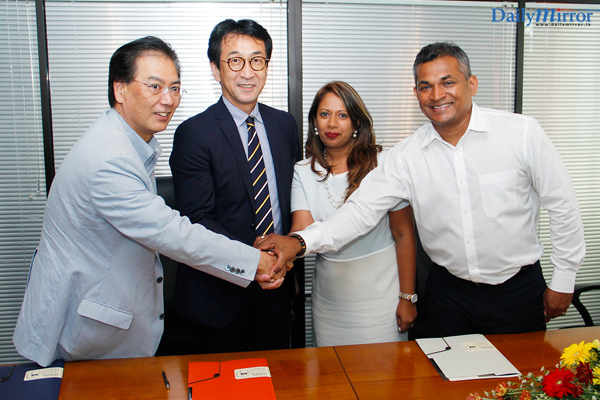 From left to right - Ryoichi Hayakawa Striders Corporation , Takeshi Hompo - President Director Chuo Senko, Jayomi Lokuliyana - Co-founder/CEO zMessenger, Janaka Rupasinghe - Co-founder/Director zMessenger
zMessenger, multiple-award winning full service digital marketing agency in Sri Lanka, has entered into a partnership with Japanese Veteran Advertising Agency Network- Chuo Senko to expand its Digital Marketing Technology and Services into the ASEAN region. The agreement for this partnership was signed recently at the zMessenger's Head Office in Colombo 02.
Chuo Senko has decades of experience in creative advertising with a client portfolio that includes global brands such as Honda, Hitachi, Aeon-Tokyo Department Store, is in digital acceleration drive to cater to its growing client digital demands. With zMessenger partnership, Chuo Senko gets access expertise and experience of innovative digital marketing firm in the Asian region.
Commenting on the tie-up, Takeshi Hompo – President Director of Chuo Senko (Indonesia) stated, "Today's advertising business requires hybrid solutions as clients demand a mix of traditional media as well as digital and mobile marketing. With our decades of experience, we are very solid in carrying out campaigns for traditional media but we are temporary short-on the expertise of digital and mobile media. Thanks to our tie-up with zMessenger, we are now fully-geared to break down barriers and provide an effective hybrid solution that I am sure will have tremendous success with our clientele."
With the inking of the agreement, zMessenger will be able to take its novel stack of MarTech (Marketing Tech) platforms involving AI driven Programmatic Ad buying, Virtual Reality and IoT Solutions to the regional level by collaborating with the two companies as they pitch 360-degree solutions to companies in Indonesia, Philippines, Vietnam, Thailand Cambodia, Myanmar and Japan.
zMessenger and Chuo-Senko being veterans in the Digital marketing and Creative advertising will work with 'progressive' global clients where digital is found everywhere in their customer journeys. zMessenger will combine its 14 year experience in the creation and execution of dynamic mobile and digital campaign strategies with cutting edge MarTech involving Data Analytics , Artificial Intelligence, IoT and Virtual Reality to create extraordinary platform to deliver world-leading brand experiences that are digitally led, data-driven and multi-channel.
Jayomi Lokuliyana- zMessenger's Co-Founder and Chief Executive Officer, said "Combining the cultural influence, core values of innovation and deep consumer insights with the global caliber of Chuo Senko gives access to Global stage for Digital Innovation"
zMessenger has built a reputation for its innovative approach and its commitment in transforming the digital marketing landscape of Sri Lanka, empowering local organizations to keep up with the rapid pace of evolution witnessed around the world. It leverages efficient and innovative digital expertise to create cutting-edge IT-enabled business solutions and mobile strategies across a vast range of industries that includes banking and finance, FMCG, manufacturing, real-estate, mass media, government and aviation.
Since inception, zMessenger has been awarded numerous accolades for its innovative solutions. Most recently, during 2016, the company was presented with the "Best Digital Marketing and Social Media Company South Asia" award at the South Asian Partnership Summit (SAPS) & Business Awards. Additionally, Jayomi Lokuliyana CEO/Co-Founder of the company, won the Best Female entrepreneur in South Asia by South Asian Business Partnership Awards.
Established in Japan in 1957, Chuo Senko is a global advertising agency network spread across several ASEAN countries including Thailand, Philippines, Vietnam, Indonesia, Cambodia, and Myanmar. The company provides 360 degree marketing services which covers research, strategic planning, creative development, media buying, event planning & operation, digital and CI design & retail shop development.
Expressing her views about the partnership, Jayomi Lokuliyana stated, "In keeping with our 2017 theme of 'Going for Greatness', I am proud to state that we have successfully mapped out a route to expand our expertise in the international stage by tying up with respected agency network. While them being veterans in the advertising field, we are a new generation digital capability partner. Together, I am confident that we will be able to supplement each other's synergies and come up with world-class innovative solutions and applications for their clientele, most of whom are large global brands."