---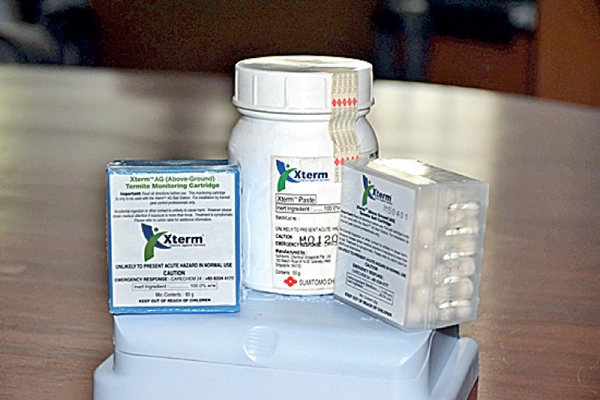 Xterm Termite Baiting System



Sri Lankans now have the assurance of a termite free environment in any building and structure with easy and convenient access to the Xterm Termite Baiting System, an innovative solution to eradicate termites without drilling the floor and evacuating the premises.



Made available in the country for the first time through authorised distributor Suren Cooke Agencies and other selected strategic partners, the Xterm Termite Baiting System provides the answer to protecting the structural integrity of houses and buildings without any harmful effects on floors or the environment.
Director of Suren Cooke Agencies Sheran Cooke said, "Termites cause more damage to homes around the world than tornadoes, fires and earthquakes combined – over $5 billion annually. There are a lot of wood and wood products used in Sri Lankan households,
and such an environment highly increases the likelihood of termite presence. Termites can infest buildings and cause damage to flooring, furniture, books, clothing, and even affect its structural strength."
The Xterm Termite Baiting system is a novel method to remove termites from a home or building, and consists of plastic inserts which are installed in and above the ground around the building. These inserts contain advanced technology which is highly palatable for termites, which termites cannot resist but consume. "Where there was a lack of a proper system for termite control before, with the introduction of the Xterm Termite Baiting System, we can now control entire termite colonies in up to 4-5 weeks, with the assurance of no hassle to the customer and no harm to the environment," Cooke added.
The active within the Xterm system, when used in the sealed Xterm cartridge system, ensures an action specific to termites with no effect on non-target organisms or the environment, while the novel Xterm compressed bait matrix ensures that termite control no longer requires having to drill the floor and evacuate your premises due to the treatment. Moreover, this unique system allows easy, clean application which eliminates the use of hazardous chemicals.