---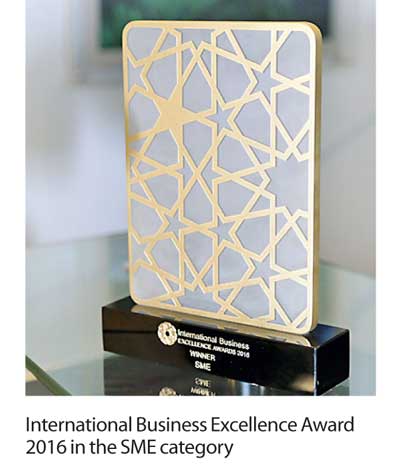 4rever Skin Naturals took another step toward its vision of being the most admired manufacturer of herb-based cosmetics in Sri Lanka within 10 years, winning the highly coveted International Business Excellence Award 2016 in the small and medium enterprise (SME) category.

At a ceremony held in Dubai organised by the Dubai Department of Economics, 4rever Skin Naturals and other achievers were honoured by Sheikh Mansoor Bin Mohammed Bin Rashid Al Maktoum. Chandhani Bandara founder and Chairperson of 4rever Skin Naturals, was also recognised at the same event, receiving a certificate (third Place) for Inspirational Female Leadership.

The International Business Excellence Awards recognise and reward outstanding business excellence across the world and for their performance on criteria such as business rationale, strategic planning, innovation and creativity and business impact. The judging process involves the selection of five finalists from an initial shortlist of 16 contenders hailing from different parts of the world.

4ever's elite team of professionals won over an international panel of judges with diverse backgrounds, coming from countries such as Europe, Canada, the UAE and India. Points in their presentation that stood out were in relation to the lean business processes, adherence to Kaizen philosophy, corporate social responsibility (CSR) initiatives and involvement of stakeholders and Blue Ocean Initiatives that are core practices of the organisation.

Among the prestigious winners of this year's awards are Deutsche Telecom, UAE Exchange and EMAAR Properties (the owner of Burj Khalifa, the world's tallest building). Even amidst this fierce competition, 4rever stood out, having achieved outstanding performance in the industry within a very short period. This is testament to their overall business excellence, not just in Sri Lanka but also in the international arena. This reinforces the fact that the strength built and demonstrated in the domestic market by competing head-on with mammoth multinational brands can be extended to the global arena.

4ever is capitalizing on those strengths and is in the process of extending their footprint into global arena, boosted by a growth explosion in the local market. The award and the international recognition it provides puts their planned expansion into a very lucrative UAE market on the fast track and steps have been taken to commence operations. This is following on successful launches of4ever products in India, Australia, in addition to plans to extend foreign operations to Singapore, Malaysia within the next few years.

Bandara commented on the event saying, "This victory is not only for us - we managed to fly the Sri Lankan flag in international arena among very diverse community by bringing glory to our mother land". CEO of 4rever Skin Naturals, Priyantha Abeyrathne stated, "Being a truly Sri Lankan company, this is a real achievement and clear testimony of our excellence in business acumen."

The award is evidence of the company's commitment to business excellence, but they refuse to rest on their laurels and continue to improve in every aspect of their operations. Investing in value innovation as exemplified by the ancient age-old wisdom of holistic Ayurveda practices being incorporated into their products with the aid of state-of-the-art-technology, maintaining the goodness of natural herbs, drives 4rever Skin Naturals to new heights. This is, they say, what gives them an edge in the marketplace and is the secret to their tremendous success.

Founded in 2006 by one of Sri Lanka's leading hair and beauty experts, Bandara, 4rever incorporates the age-old wisdom of holistic Ayurveda practices with state-of-the-art-technology while maintaining the goodness of natural herbs. 4rever uses only 100 percent natural herbal ingredients, making it one of the healthiest, safest cosmetic herbal brands around.

The company sources all its natural ingredients locally and only from certified spice gardens and out growers. 4rever has now grown into a group of companies consisting of its own Salon Chains across the island, SPAS and its own slimming tea brand "Dioli". Also, The Hair and Beauty Institute offers recognized local, UK (City & Guilds) and Australian (Reach for Australia) qualifications with courses tailor-made to suit students or beauty enthusiasts alike.