---

Sithambaram Sivaraja, Managing Director, ReeBonn Cosmetics with new product



ReeBonn Cosmetics, one of the leading herbal cosmetics companies in Sri Lanka launched its newest product ReeBonn Premium Hair growing and scalp nourishing oil.


This newest oil processed with virgin coconut oil is enriched with nine proven herbs and Vitamin E.
ReeBonn Premium Hair growing and Scalp Nourishing Oil stimulates growth of hair and prevents loss of hair by strengthening hair-root. It also stops graying of hair prematurely.
A majority of hair oil products in the marketplace are manufactured with coconut oil that is extracted from desiccated coconut.
ReeBonn Premium Hair growing and Scalp Nourishing Oil made with virgin coconut oil is fat free. Hence it prevents oil getting deposited at the hair root and stimulates ventilation inside the scalp. Thus the hair gets nourishment constantly.
In addition to Vitamin E this hair oil contains many herbs. Neelamari (helps to make hair thicker and full, manageable dark and glossy), Brahmi (replenish hair roots with necessary moisture), Henna (conditions hair), Curry leaf (strengthens hair roots), Nelli (treats dry itchy scalps), Tulsi (helps to improve blood circulation and keeps your scalp cool), Fenugreek (extremely effective against anti dandruff hair fall), Shoe flower (improves hair growth) and Keekirindiya (prevents hair loss) are the herbs this oil product is rich with.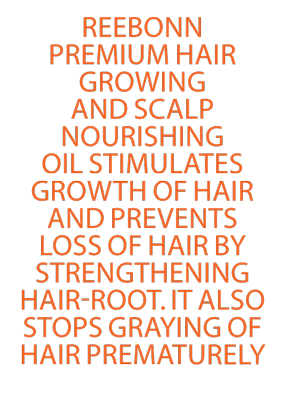 ReeBonn Premium Hair growing and Scalp Nourishing Oil has in store other bonuses to the user. It prevents you from having headaches and mental stress. People who work with computers often complain of eye pains. This oil product relieves you from all eye pains.
ReeBonn Cosmetics Managing Director, S. Sivarajah speaking at the launch ceremony said the Research & Development division of his company saw the need in the local marketplace for herbal hair oil which assures hair growth and engaged in research for years.
"We did research for years on the product and the result is ReeBonn Premium Hair growing and Scalp Nourishing Oil. In manufacturing the product emphasis was made on preventing premature loss of hair and preventing graying of hair prematurely. We resorted to age–old recommended herbs as ingredients in making the product. Many hair growing oil products are made with desiccated coconut but we used virgin coconut oil which is fat free. This helps the herbs to seep into the scalp and strengthen it. All ingredients are recommended Ayurvedic ones. Hence anyone can be rest assured of ReeBonn Premium Hair growing and Scalp Nourishing Oil's ability to nourish hair and adding of extra sheen to it", said the Managing Director.
Commissioned in 2005 ReeBonn Cosmetics (Pvt) Ltd manufactures a wide range of herbal cosmetics which are in heavy demand.
Among its herbal products are; shampoo, silicon conditioner, rinsing conditioner, black henna, face wash, fairness cream, cream soap and hand wash liquids. ReeBonn cosmetics are exported to Japan, India, Middle East and Maldives.