---
Secures US $ 60mn contract to construct five-star resort hotel in Maldives
---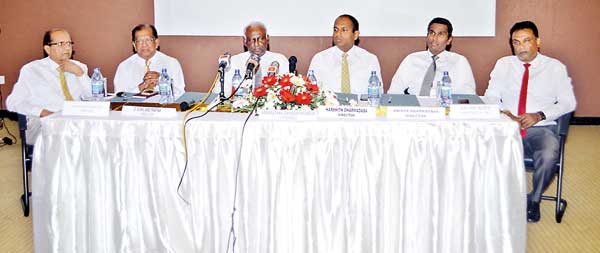 By Shabiya Ali Ahlam
Nawaloka Construction Company (NCC) yesterday announced that it has successfully stepped into the global construction market having bagged a million dollar hospitality project in the Maldives.
Having won the contract without having to undergo the regular tender process, NCC will construct for EFVY Holdings, a five-star resort hotel located on Vakkaru Island in BAA Atoll, the Maldives. The project, which is of US $ 60 million contract value, would consist of 150 rooms along with 55 water villas and 95 beach villas. While the designing of the project has been completed and approved, the construction will commence end-September and will reach completion in 22 months.
NCC shared that the project would require a human resource of 800 workers, of which assistance of approximately 200 locals under the skilled workers category would be sought.
Although the company is keen on filling the remaining 600 vacancies with local recruits, due to a shortage in construction workforce in the country, NCC will obtain the service of labourers from India and Bangladesh.

"We are confident that the construction of this project would place NCC's name in the Republic of Maldives for future construction projects and also on the global list of international construction companies," expressed NCC Chairman Jayantha Dharmadasa enthusiastically at a press briefing yesterday.
Meanwhile, NCC CEO/Director Kalana Alwis highlighted that it is the strong reputation that the company has maintained since its inception that allowed NCC the opportunity to set foot overseas.
"EFVY Holdings has been on the lookout for a construction company for this project for more than two years but was not satisfied with what was offered to them. Without our knowledge they had visited some of our on-going projects and were impressed with our work. We were then invited to take over the construction of this five-star hotel, which we gladly accepted, as it is an opportunity to bring revenue to our nation," expressed Alwis.
Confident that the Maldives will be an immense success, Alwis shared that NCC will explore infrastructure projects in countries such as Myanmar and Cambodia.
NCC currently is handling over 16 projects, including John Keells Holding's US $ 520 million Waterfront project, where it is one of the local construction partners.






Govt. urged to address workforce shortage


In a bid to uplift the local construction sphere, a top industry veteran yesterday urged the government to take effective measures to encourage more youth participation in the sector.

Highlighting there is a severe labour shortage in the construction industry, Nawaloka Construction Company (NCC) Chairman Jayantha Dharmadasa told Mirror Business the government should explore setting up a training institute to lure the youth into the industry.
"The government should explore setting up a formal training system for construction workers, similar to the one they have established for nursing so that the youth are encouraged to step into this arena.
"Though the private sector has a good proportion of highly productive skilled workers, we are struggling to find labourers. The government must acknowledge this challenge and look at ways to ensure the private sector has a steady supply of frontline construction workers. It is essential for the growth of the industry," Dharmadasa said.
He also pointed out that the existing labour laws are "not good enough" for Sri Lanka as they have many loopholes, which the labours take advantage of.
"We observe that our labourers are twice as productive compared to other nations but our labour laws are not good enough. Anyone can do anything and get away with it and this has a big impact on discipline.
When they are caught red-handed for some wrong doing, the Labour Courts tells the employer to pay the worker under sympathy grounds. So they don't learn. We can never be certain how many would show up for work tomorrow morning. It is essential to push and encourage our workers to be professional, disciplined and work for the salary they earn," said Dharmadasa.