---
Says both govt. and consumers will be losers with loose regulations
By Chandeepa Wettasinghe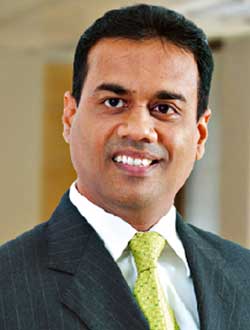 The government's decision to liberalize the lubricant and bitumen markets will have far reaching negative consequences to both the government and the consumers, the country's top suppliers said.

"As the number one player in the market, it seems that the government didn't take a good decision. They should have done their due diligence and talked with the industry players, because they seem to have been misinformed," Chevron Lubricants Lanka PLC Managing Director/CEO Kishu Gomes said.

Finance Minister Ravi Karunanayake in his budget speech last week said the lubricant market was managed only by a few companies.
"Hence I propose to liberalize the lubricant market and I encourage the companies to venture into more value added products with high investment. Further I propose to remove lubricants from BOI negative list," he had said.

However, Gomes noted that there are currently 13 reputed companies active in Sri Lanka representing 20 different brands for the 55 million litre local market, compared to India, where 27 companies are catering to a 2 billion litre market.

"The top 6-7 global players are here, like BP, Exxson, Chevron, Total and Shell. At the same time there are regional players like the Lanka IOC, and local companies like Laughs and Ceylon Petroleum Corporation (CPC). The government is liberalizing an industry big enough for just 5-6 players," he added.

He noted that the 3 companies producing lubricants in Sri Lanka—Chevron, LIOC and CPC—already have a production capacity 3 times the local demand.

"Therefore there's intense competition and the best technology in the local market and you can see that the lubricants are sold here much cheaper than in other countries," Gomes said.
He noted that instead of further liberalizing the industry, regulations should be tightened and heavily imposed, as the 13 companies who have excellent ethics and production practices only have a 75 percent market share.

"There are 17 other unlicensed players selling lubricants to 10 percent of the market and there are others who import used oil and products with adulterations. Are they even lubricants? They have 15 percent of the market. These are misleading the consumers," he said.He noted that the government has no independent labs to test oil and has so far imposed no regulations to muscle these players.

"The government can think of getting more players, but without regulations, both the government and consumers will be the losers. Products that look like oil will come in and bust the car engines and heavy industrial machinery, and there will be a foreign exchange drain to import new engines," he added.

He said that the current license fee should be increased as well.

"Currently the license fee is Rs.2 million a year. The license fee has to be substantially increased to at least Rs.5 million to ensure that those who are entering this market are serious about this market," Gomes said.

He said that the lubricant market has contracted in 2015 compared to 2014, as privately owned thermal power generators, which accounted for 15 percent of the market, have now been shut down.

Meanwhile, LIOC Managing Director S. Bohra said that while the action of liberalizing the bitumen market is welcome since it would foster competition and lower prices for construction, regulations must be enforced rigorously to ensure that quality roads and buildings are constructed.

Currently LIOC and CPC are the only licensed bitumen importers to Sri Lanka with the government revoking licenses of companies which could not operate well in the market. Karunanayake had chosen to liberalize the market in the budget to expedite repairs and construction of roads.

"That is an area of concern. Companies like us and CPC are publicly listed and state companies, so we have processes in place to ensure quality. Competition is always good, but the government will have to put rules regulations in place so that the products coming in are of good quality," Bohra said.

He also noted that the bitumen market is not large, with the demand reducing 40 percent from 2014.

"LIOC is in a position to import whatever quantities the island requires," he added.