---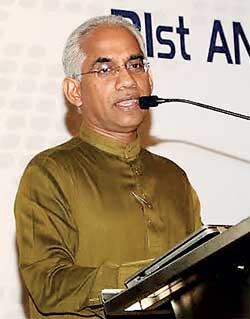 Despite the Budget 2016 proposing to set up an Export-import bank (Exim) as early as April 01, 2016, the Deputy Minister for State Enterprise Development, Eran Wickramaratne said Sri Lanka could not afford to rush in establishing such an institution, which demanded massive capital requirement.

He said capitalizing an Exim bank could be extremely challenging.

He further said adding more institutions to the system would also not help the cause.

The government is already grappling with such institutions established during the last two decades trying to turn them into profitable outfits.

"An Exim bank, as you know, is a much talked about topic but has to be more than words. While an Exim bank in Sri Lanka is a good idea, it is not something that we could afford to rush into," said Wickramaratne.

The country's Finance Minister, Ravi Karunanayake on November 20, 2015 proposed to set up an Exim bank to be operational from as early as April 01, 2016 and run as a listed company on the Colombo bourse.

The bank will have an initial capital of Rs.25 billion subscribed jointly by the government and the industry. The government will also allocate Rs.50 million as seed capital.

Meanwhile Karunanayake last week confirmed that the proposed Colombo International Financial Centre would be inaugurated in April this year on D.R Wijewardena Mawatha where a 300,000 square feet facility would be constructed.

Majority of the proposals of the maiden Budget of the national unity government are however either revised, withdrawn or the implementation delayed.
The government is likely to be heading towards a fiscal crisis in addition to a Balance of Payment crisis as many a revenue proposal had to be either withdrawn or compromised, making capitalizing an Exim bank a distant reality. Analysts point out that the government revenue is barely sufficient to meet the day-to-day expenses and finance debt.

"I have been thinking about this Exim bank quite deeply, and I think one of the biggest issues we will face is to really capitalize it properly if we are starting a bank. Banks don't come cheap and they need large amounts of capital," the banker turned politician further said.

Addressing the country's exporters at the 21st Annual General Meeting of the National Chamber of Exporters last week, the outspoken Wickramaratne said the need of the hour is not adding more and more intuitions into the system but improving the efficiency of what the country has already established.

"I think that before (adding up) more institutions, we actually need to do the things we are doing in a much more efficient way," he remarked.

He therefore proposed to study the success stories of some of the South East Asian economies as to how those governments encouraged exports and acquired technical expertise. He also said the government could take interim measures to facilitate export finance through state banks and encourage exports through a mechanism such as Sri Lanka Export Credit Insurance Corporation.

---
Add comment

Comments will be edited (grammar, spelling and slang) and authorized at the discretion of Daily Mirror online. The website also has the right not to publish selected comments.

---