---
Chief Minister says will achieve US $ 1bn in investments and 1mn tourists by 2020
By Shabiya Ali Ahlam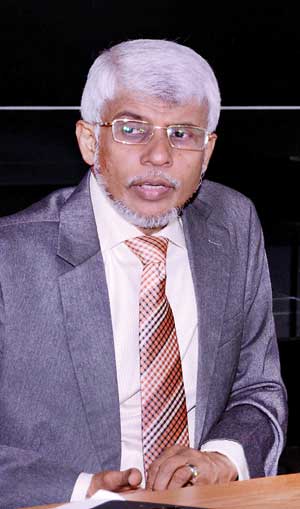 Sri Lanka's Eastern Province is targeting to bring in US $ 1 billion investments and one million in tourists to the region by 2020, a top Local Government official said.

With the Eastern Province having captured world's attention as a prime tourist destination after having endured 30-year war, Chief Minister of Eastern Province Naseer Ahamed expressed confidence that the region would witness increased physical investments in the near future. "This (reaching of $ 1 billion investment and one million tourists) we will do. We are ready to give our support from the provincial side. We will be very cooperative," assured Ahamed, while sharing updates on the 'Invest in East' forum that is scheduled to kick off on January 28.

"We have a good talent pool and we are opening up with the present government.

I am sure we will be successful in our efforts," he told a press briefing graced by Minister Development Strategies and International Trade Malik Samarwickrama, State Minister International Trade Sujeewa Senasinghe and senior officials of the Export Development Board (EDB) and the Board of Investment (BOI). To showcase the Eastern Province to the world, the Provincial Council Chief Ministry, in collaboration with the Ministry of Development Strategy and International Trade and the Ministry of Christian Affairs and Tourism Affairs will facilitate the second edition of the 'Invest in East' forum.

The two-day event that will take place in Colombo is conceptualized with the objective of providing a critical assessment of current trade and international climate, identifying specific FDI needs and opportunities in the province, encouraging multi-lateral cooperation between international investors, role-players, academic institutions, business practitioners and policy makers, and showcasing the key development initiatives in the East.

While the forum targets a total of 500 participants, 300 foreign delegates from, China, India, Korea, America, Australia, India, Bangladesh and few others, are said to have confirmed their participation.

Out of the large number of foreign investors expected to participate are contingents from commerce and industry chambers.

The 2016 edition will feature President Maithripala Sirisena as Chief Guest and Prime Minister Ranil Wickremesinghe as the Guest of Honour.

"Many have shown interest not only in investing in the East but in Sri Lanka as well. They are looking at Sri Lanka as a good destination for investment, so hopefully this time we will see some serious investors and we are ready to handle them," said Chief Minister Ahamed. Pointing out that the forum has got the attention from the highest level, International Trade Minister Samarwickrama expressed confidence in the event being a success. "I would like to invite chief ministers from other provinces to take up initiatives such as this so that it will help our ministers and the BOI to pull in more FDIs," said Samarwickrama, commending the efforts of the Eastern Provincial Council Chief Ministry.

While active measures are being taken to boost the region, it was shared that in order to increase connectivity the ministry is in discussion with SriLankan Airlines to have a regular service.

"This is not for tourist alone, but to increase overall connectivity. We have spoken to them about having internal flights," Chief Minister Ahamed noted.