---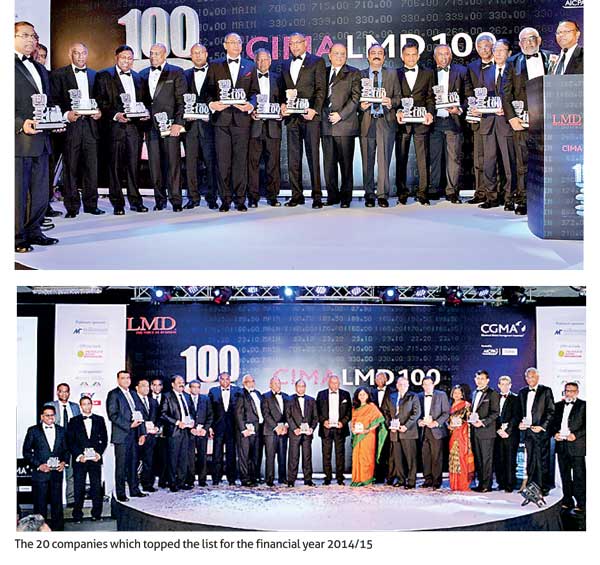 CIMA Sri Lanka, known for its contributions to the business field, collaborated with the country's most prestigious magazine Lanka Monthly Digest (LMD) to recognise the contributions of Sri Lanka's Most Influential Companies at a gala awards ceremony recently.


LMD's rankings of leading listed companies are now firmly established as Sri Lanka's version of the Fortune 500.
The LMD 100 is based on companies that shape the corporate landscape and the primary selection criteria is their individual turnovers. Running the gamut, they looked across every field of endeavour to recognise the most influential companies for the financial year 2014/15, as well as the companies which topped their respective sectors – based on the Colombo Stock Exchange designated sectors.

At the gala dinner, only 20 companies were recognised with the full list being published later in the year.
At this year's event, Millennium IT was the Platinum sponsor, People's Bank the official bank, Guardian Acuity Asset Management Ltd, Oracle, Sri Lanka Telecom and Commercial Credit the Gold sponsors and Honda the Silver sponsor.
LMD 100 Hall of Fame for financial year 2014/15: (1.) Hayleys PLC (2.) John Keells Holdings PLC (3.) Bukit Darah PLC (4.) Lanka IOC (5.) Commercial Bank of Ceylon PLC (6.) Dialog Axiata PLC (7.) Sri Lanka Telecom PLC (8.) Hatton National Bank PLC (9.) CT Holdings PLC (10.) Cargills (Ceylon) PLC (11.) Expolanka Holdings PLC (12.) Sampath Bank PLC (13.) Lanka Orix Leasing Company Ltd (14.) Vallibel One PLC (15.) Softlogic Holdings (16.) Richard Pieris& Company PLC (17.) Colombo Fort Land and Building Company (18.) Aitken Spence PLC (19.) Nestle Lanka PLC and (20.) Hemas Holdings.
The Sector Leaders are based on the Colombo Stock Exchange designated sectors: Motor – Diesel & Motor Engineering PLC, Banks, Finance & Insurance – Commercial Bank of Ceylon PLC, Chemicals & Pharmaceuticals - CIC Holdings PLC, Stores & Supplies - E. B. Creasy & Company PLC,

Telecommunications - Dialog Axiata PLC, Trading - Singer (Sri Lanka) PLC, Oil Palms - Bukit Darah PLC, Investment Trusts - Lanka Century Investments PLC, Beverage, Food & Tobacco - Cargills (Ceylon) PLC, Land & Property - Overseas Realty (Ceylon) PLC, Construction & Engineering - Access Engineering PLC, Health Care - Asiri Hospital Holdings PLC, Hotels & Travel - Aitken Spence Hotel Holdings PLC, Footwear & Textiles - Hayleys Fabric PLC, Manufacturing - Tokyo Cement Company (Lanka) PLC, Plantations - Kotagala Plantations PLC, Diversified Holdings - Hayleys PLC and Power & Energy - Lanka IOC PLC.