---
Advocates getting into Trans-Pacific Partnership Agreement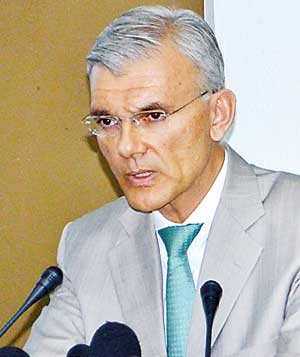 Bilateral Free Trade Agreement (FTA) with the United States of America (USA) does not make sense when Sri Lanka could aim for a much broader Trans-Pacific Partnership (TPP) agreement which gives market access to twelve countries including the USA, a globally acclaimed economist said.

Prime Minister, Ranil Wickremesinghe on several occasions said, his government was considering an FTA with the USA among other countries.

However Professor Razeen Sally said there would be no difference in commitments Sri Lanka will have to meet, between signing an FTA with the USA and joining the TPP, which is a mega regional agreement.

"Why a bi-lateral FTA with the United States when you can do the same FTA with eleven other members in addition, so that you can have extra market access?" asked Professor Sally.

Getting into regional FTAs makes the trade less complicated than bi-lateral FTAs as the former has a wider scope with much lesser agreements, while the latter requires entering into many agreements with so many other countries.

Sri Lanka is currently negotiating a FTA with China and mulls another with Singapore.

Speaking at the Ceylon Chamber of Commerce, Sally, Visiting Associate Professor at the Lee Kuan Yew, School of Public Policy, National University of Singapore said, bi-lateral agreement with the USA makes little sense in plugging into global supply chains as the, "supply chains do not operate bi-laterally".
"If you are thinking in terms of global value chains— which is the way every country is thinking— you can't think bi-laterally because value-chains are not bi-lateral. They are across the globe or they are across the regions. They want the seamless flow across many borders and frontiers.

Hence, TPP makes more sense in that respect because it has a much greater stretch covering value chains than would have just with the United States," he said.

TPP agreement is the world's largest regional trade agreement currently being negotiated among twelve nations – Australia, Canada, Japan, Malaysia, Mexico, Peru, United States, Vietnam, Chile, Brunei, Singapore and New Zealand.

The trade bloc accounts for 40 percent of the world economy and two-third of global trade.




Feasibility study on joining TPP soon

A feasibility study on Sri Lanka joining the TPP agreement is expected to be carried out by the Colombo-based economic think-tank, the Institute of Policy Studies (IPS) soon, said Professor Sally who is also the Chairman of the IPS.

The American Chamber of Commerce in Sri Lanka (AMCHAM) will support the study which will comprehensively evaluate the costs and the benefits of such an agreement to Sri Lanka.

According to Professor Sally, the TPP will bring significant export market access to Sri Lanka and he warned that staying out of the agreement will have much higher costs.

"Staying out of it means, it will get much harder to get into global value chains. Being in the TPP will probably ease the job in getting into these value chains," he remarked.

Apart from the benefit of wider market access, the TPP will bring in even bigger benefits to Sri Lanka by way of providing pro-market rules.
It also has a geo-political advantage in terms of cementing the relationship with the United States.

Sri Lanka is required to remove 90 percent of its tariffs in order to join the TPP among other requirements.

The country is also required to have much stronger intellectual property rights and commercial dispute resolution mechanism.

Further, joining the TPP will require Sri Lanka to open up its services market considerably on the basis of national treatment.

"The way that I would look at it is, it might well be worth aiming for even though it is ambitious, firstly; because there is serious extra market access, secondly; it will trigger to improve rules of market and competition, thirdly; there would be costs of staying outside of TPP because trade will go to Vietnam, Malaysia and others in garments and other areas and it will be more difficult for Sri Lanka to enter," Professor Sally said.

While at the moment, Sri Lanka is not ready to join the TPP, Professor Sally said the Government could make an application to join the bloc with the expectation of joining at least in five years because it would require the Government to concentrate on a credible domestic reform agenda to be well prepared prior to joining.