---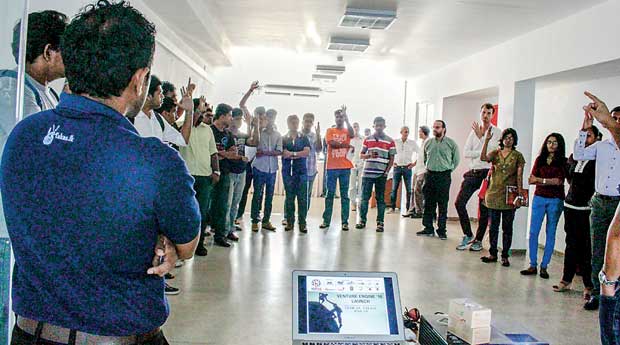 The fifth anniversary edition of pioneering local entrepreneurship platform, Venture Engine, was launched recently at the Lankan Angel Network Incubation Centre in Colombo, with a large number attending the briefing for 2016's programme as well as the hackathon.

Open to new business ideas and start-ups, as well as the existing enterprises looking to grow further, Venture Engine has already begun accepting online applications via www.ventureengine.lk with entries set to close on May 11, 2016, at 12 midnight.

Importantly, in addition to accepting business plans for the next big business idea, Venture Engine has also endeavoured to similarly advance the vanguard of social impact entrepreneurship in 2016 by introducing an award specifically for this fledgling field. The Social Impact Entrepreneurship Award recognises the most innovative and scalable, for-profit businesses, where positive social impact plays an integral role in the business model. Also noteworthy, it is Sri Lanka's first award recognising social impact entrepreneurship.

Conceptualised by Blue Ocean Ventures, in collaboration with the Indian Angel Network, Venture Engine is run by strategic partner Lankan Angel Network and backed by platinum sponsors Expolanka Holdings, Orion City, Dialog and Aavishkaar, which is powered by KfW, a German government-owned development bank.

Since its inception in 2012, Venture Engine has nurtured small and medium start-ups and growing concerns by providing whatever it takes to advance these businesses to the next step in their evolution. With a focus on real-world results, Venture Engine provides Sri Lankan entrepreneurs with every opportunity required to fast track their business successes, specifically through the development of stronger business plans aided by mentoring sessions, as well as informative workshops featuring some of the region's top entrepreneurs and business leaders.

To date, over 20 companies have achieved remarkable levels of success as a result of Venture Engine, with key local innovators, including Takas.lk, Trekurious, OMAK Technologies, Ridgecrest (tickets.lk), Saraii (eco-village), Extrogene, Nithya, Katha, Wild Trails (eco-adventure), House of Lonali, Glitteray, Threadsol (IntelloCut), Lanka BPO Academy, MyWish (weddings), Push Skateboards, Healthy Living, Zacki Herbal Products, Zigzag.lk, Endemic and 24-7 Techies, having been mentored and funded, to the tune of over US $ 5 million, over the last four years.

Interestingly, many Sri Lankan start-ups have utilised the Venture Engine platform, as well as its in-built access to the 75-member strong Lankan Angel Network and even the much wider range available via its Indian and regional Angel Network relationships, to not just boost local operations significantly, but also expand internationally.

Last year's Venture Engine featured over 150 submissions, later filtered down to 11 'Top Fundable' finalists. Participants in the programme were provided with every resource needed to grow their businesses, from the development of stronger business plans, aided by mentoring sessions, to informative workshops featuring top local, regional and global entrepreneurs and business leaders and even access to leading global venture capital seed fund 500 Startups.

Commenting on the launch of 2016's Venture Engine and its empowerment of five years of Sri Lankan entrepreneurship, Blue Ocean Ventures Co-Founder Prajeeth Balasubramanium said, "We are excited to launch this year's Venture Engine, especially with it being a lead-in to the Asian Business Angel Forum to be held in Sri Lanka in 2017, when our scenic island will welcome a significant number of potential angel investors to our shores, many of whom will be visiting us for the first time and from as far away as China, Australia and the USA."

"As the first and only entrepreneurship programme conceived and advised by leading business angel investors, we truly feel we are the only ones that can fully understand what it takes to create an entrepreneurial success story, especially since we have done it ourselves. Venture Engine empowers and mentors local entrepreneurs at every step of the development process, from registering a company and prototyping, to growth over the very vital, early years. Most important of all, since we only take on the business ideas that we believe in, we often personally guide our chosen projects, focusing on making them successful above all else, instead of earning commissions, charging fees, etc. In fact, it is only when you win, that we win," Balasubramanium added.