---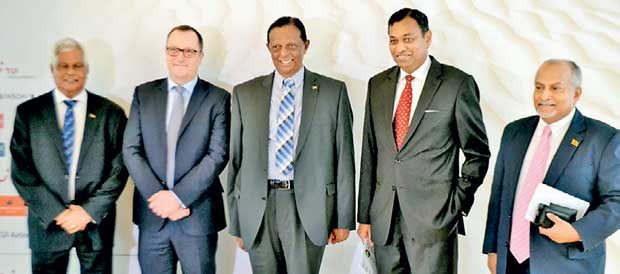 From left: Sri Lanka Tourism Chairman Paddy Withana, TUI Group Managing Director Garry Wilson, Tourism Development Minister John Amaratunga, Sri Lanka Ambassador to Germany K. Amunugama and Advisor to Minister Felix Rodrigo
The Hanover-based international tour operator, TUI Group, has disclosed its plans to use Sri Lanka as a hub in the Indian Ocean region to service other regional destinations, during a meeting with Sri Lanka's tourism minister, who is currently in Germany, attending ITB.
A press release issued by Sri Lanka Tourism attributed this claim to TUI Group Managing Director Garry Wilson and said Tourism Development, Lands and Christian Religious Affairs Minister John Amaratunga assured Sri Lanka government's support for the proposal.
According to the press release, the minister also requested TUI to consider the North and East when expanding its operations in the country in order to provide more economic opportunities for the youth in the region.
Further assistance from TUI Group was sought to upgrade the country's hospitality training.
In response, the press release said TUI agreed to collaborate with the Sri Lanka Institute of Tourism and Hotel Management—formerly Ceylon Hotel School—by providing financial assistance as well-trained German professionals to develop both the curricula and training facilities.
Sri Lanka Tourism Chairman Paddy Withana, who also took part in the discussion, noted that the German government was instrumental in initiating training programmes for Sri Lankan youth in the hospitality industry as early as the 1960s.
He recalled that many of those who benefited from such training programmes have gone on to become top managers in leading hotels both in Sri Lanka and overseas.
Under the proposed training programme, trainees will receive internationally recognized certificates and language training, making them globally employable.
As the first step, identified satellite schools of the Sri Lanka Institute of Tourism and Hotel Management will be developed with TUI's assistance, the press release noted.