---
Hotel sector employees have expressed dissatisfaction over the ongoing Covid-19 national vaccination drive, as no progress been made despite the industry being told they are listed as priority group.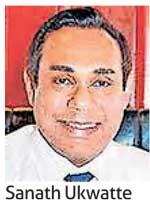 "Although the hotel industry staff, among other tourism staff, has been categorically told that they will be given priority in the national vaccination drive, it's very unfortunate that so far employees have had little or no access to the vaccine in the national vaccination rollout," said The Hotels Association of Sri Lanka (THASL) President Sanath Ukwatte yesterday.

Ukwatte stressed it is imperative the hotel sector employees are treated as priority as it will provide "another level of protection to this committed group".
THASL chief further pointed out that as an industry of people taking care of people, the hotel industry has taken all steps to support and strengthen the country's efforts to fight the virus.

"Our hotel staff is regularly exposed to the virus and we must recognise the vital role they are performing during this health crisis in supporting the community at large," asserted Ukwatte, stressing the need to speed up efforts in having the sector stakeholders vaccinated.

It was only last week the Sri Lanka Tourism Development Authority (SLTDA) announced that a special vaccination programme for tourism sector stakeholders will be rolled out in the coming weeks so that the industry can work towards a "fairly normal setup", similar to that of pre-pandemic times.

The programme, proposed by SLTDA and approved by the Ministry of Tourism and the Ministry of Health, was registering individuals attached to the industry for the jab according to the SLTDA.

Categorised as essential workers, hotel sector employees are categorized into four groups; (1) Level-1 hotels where only tourists are allowed, (2) Quarantine hotels where Sri Lankan repatriates are housed during first 14 days of isolation on arrival to the country, (3) Intermediate Care Centres where hotels serve COVID-19 positive persons to isolate, and (4) All other hotels that are open to the general public.

THASL highlighted that since the onset of the pandemic, the hotel industry has supported the frontline healthcare workers offering temporary accommodation facilities and free meals and later converting their hotels to quarantine facilities to assist government's efforts.

As the country continues to fight the pandemic, he asserted that the industry remains committed to support the government and the population across the country.