---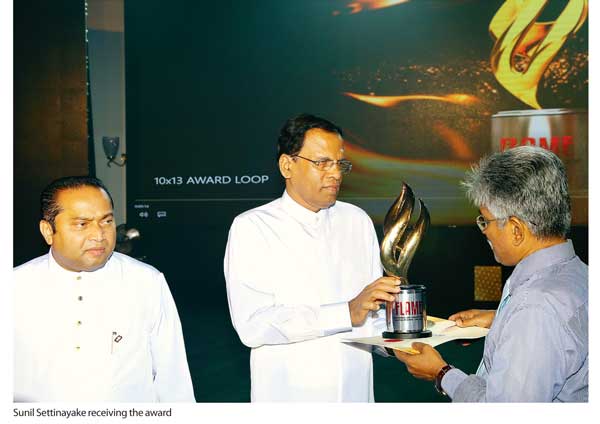 Sunteks International was recently presented the Flame award at 'Flame Entrepreneur Awards 2016' organized by the Western Provincial Council.

Sunteks International represents world-renowned manufacturers for the promotion of their products in Sri Lanka and other Asian countries. Refracting sunlight through tiny prisms, sunoptics skylights make soft and bright light sunlight directed throughout the room. Sunteks has successfully installed skylights in Sri Lanka, India, Pakistan, Bangladesh
and Vietnam.

"This is, more or less, like fixing a glass pad on the roof to enjoy sunlight. Yet, the prismatic skylight lets in more natural light while cutting out UV and heat. Sunoptics skylight has over 4000 tiny prisms per square foot. It utilizes a daylight harvesting sensor that responds to incoming sunlight and uses electrical lights to compensate the amount of light required to light up the room to the desired light level, when the daylight levels go down due to varying sky conditions. Sunoptics skylights comes in different sizes and shapes to suit different applications," said Sunil Settinayake, Chairman of Sunteks International. With a view to reduce the cost of electricity through day lighting systems, Sunteks International launched Prismatic sky lighting systems in Sri Lanka in 2007, to bring UV-free sunlight into buildings. "This enabled the buildings installed with skylights to reduce lighting cost by 90 percent during daytime. The skylights they have installed have saved the country about 5MW during daytime. Skylights are more suitable for buildings such as factories, hotels, reception halls, warehouses, supermarkets and offices, where large numbers of lights are used in daytime," Settinayake added.