---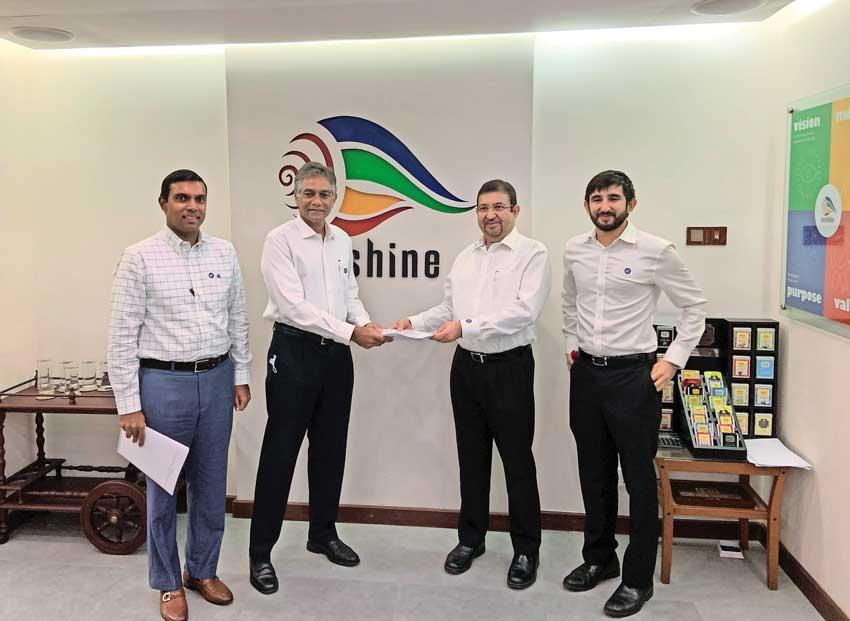 Sunshine Healthcare Managing Director Shyam Sathasivam, Sunshine Holdings Deputy Chairman Amal Cabraal and Akbar Brothers Directors Asgi Akbarally and Shiraz Akbarally
Sunshine Holdings to own 72% stake in merged entity
Sunshine Holdings PLC yesterday announced a strategic merger deal with Akbar Brothers to set up the country's first fully integrated healthcare company by merging the healthcare businesses of the two companies.

Sunshine Holdings in a press communiqué said its fully-owned healthcare subsidiaries, Sunshine Healthcare Lanka and Healthguard Pharmacy, would be merged with Akbar Brothers' Akbar Pharmaceuticals, Lina Manufacturing and Lina Spiro.

Following the merger, Sunshine Holdings would hold a 72 percent stake in the merged entity (Sunshine Healthcare) and Akbar Brothers would hold the remaining 28 percent stake.

Sunshine Holdings in a filing to the Colombo Stock Exchange stated that it would acquire 99.99 percent ordinary voting shares held by Akbar Brothers in Akbar Pharmaceutical and in exchange, Sunshine Holdings would issue 25 percent of its ordinary voting shares in Sunshine Healthcare Lanka to Akbar Brothers.

In addition, it noted that Akbar Brothers has also agreed with Sunshine Holdings to purchase another 3 percent of the ordinary voting shares held by Sunshine Holdings in its subsidiary, for a cash consideration of Rs.278.4 million.
The strategic merger is expected to form the country's first fully integrated healthcare company, starting from manufacturing up to retailing of healthcare products, including last-mile distribution across the country for all healthcare products.

"The company will be operating in all five segments of the healthcare supply chain, namely R&D, manufacturing, importation, distribution and retail," Sunshine Holdings said.

Akbar Brothers' Lina Manufacturing produces a range of respiratory pharmaceuticals and devices, including Beclovent, Flutivent, Salbuvent, Prazolin, Winterpan and the award-winning Ventohaler inhalers.

Its latest venture Lina Spiro specialises in manufacturing metered-dose inhalers, which are for respiratory care and is the only such manufacturer in Sri Lanka certified to the WHO-GMP standards.

Meanwhile, Sunhine Holdings' Healthguard Pharmacy has a network of 22 pharmacies across Greater Colombo, offering a range of pharmaceuticals, wellness and beauty products.

Sunshine Holdings said it expects to enhance the pharmaceutical manufacturing capacity in the country by combining the strengths of the two parties.

"The merged healthcare business will be able to build further manufacturing capacity as well as develop and scale up production of the existing and new molecules, work with regional pharma," it elaborated.

Sunshine Holdings' share price yesterday closed at Rs.84, up by Rs.1.20.