---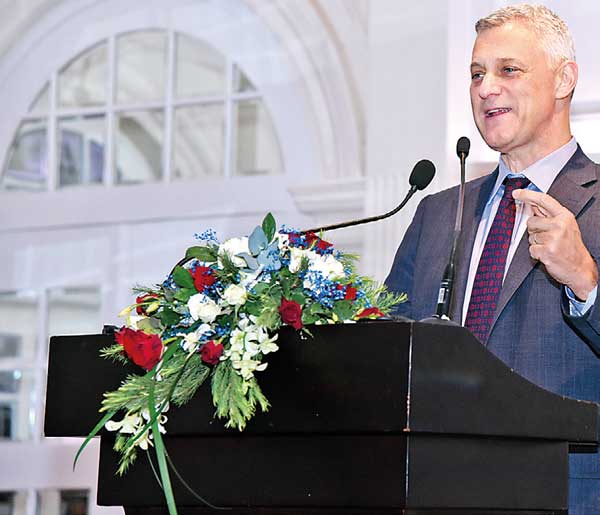 Bill WintersPIC BY SAMANTHA PERERATHE CHINESE FOREIGN MINISTER
""By Indika Sakalasooriya Standard Chartered Global CEO Bill Winters, who was on a brief visit to Colombo last week said he had a "real sense of optimism" about Sri Lanka's potential, which is eying to be the hub services provider in the South Asian region. "I had very strong feelings about Sri Lanka as I first came here as a tourist five years ago with my family. We all fell in love with the country. During this visit, I met with our clients, the Central Bank and the development ministry. I get a real sense of optimism," Winters said during a brief interview with Mirror Business on Friday. "I know Sri Lanka has a new government, I know it is still finding its way and evolving.
But there is an underlying sense of optimism to me which is very encouraging and they've been very supportive of the investments we've been making in Sri Lanka," he added. Winters said when he met the Central Bank Governor Dr.Indrajit Coomaraswamy and the Development Strategies and International Trade Minister Malik Samarawickrama, they were very appreciative of the global bank's role in the recently concluded sovereign bond sale, which was well placed at very good interest rates.
When asked whether Minister Samarawickrama had requested anything specific from him, Winters said the Sri Lankan government was expecting the Standard Chartered to continue bringing in innovative and constructive foreign financing sources to the country. Sri Lanka has already announced very ambitious infrastructure plans— the Western Megapolis Project— which require over US $ 40 billion in investments—almost half of the country's GDP. "We are in a privileged position of being a big bank in China and the rest of North Asia, ASEAN, South Asia, Middle East and Africa and, one of the interesting capital flows now is from China into what they call 'one belt one road'
Sri Lanka is in the heart of the maritime route, so we are in a very privileged position being a large bank in China—a large infrastructure bank— and the Governor and the Minister were keen to find ways for us to help tap into that flow of capital in a constructive way," Winters said. Commenting on Sri Lanka's hub aspirations, Winters acknowledged that Sri Lanka has a "fabulous opportunity" to set a up a state-of-the-art financial hub to serve the South Asian region. However, he noted that such an exercise was not straight forward due to the complex legal framework that needs to be put in place and the need for establishing a compliance culture which was truly world class—a not so easy task given the constantly changing global standards.
Winters offered Standard Chartered's assistance in this regard as the bank possessed extensive experience in handling such scenarios. He also said with the new ports and terminals that were being built in the country, a physical logistics hub aspiring to become a financial hub at the same time was a "very attractive proposition." Meanwhile, talking about the global banking giant's plans to expand its presence in Sri Lanka, Winters said they were looking at strengthening its retail banking business with the introduction of new technology. "We have pretty aggressive investment programme in the bank as a whole right now. We'll be delivering online banking apps, smart phone apps and for retail banking we'll be creating much more seamless endto- end processes, that should create better customer experience, faster turnaround times etc.
"All those investments we are targeting in Sri Lanka as well as we target in other parts of the world," he said. Standard Chartered has been present in Sri Lanka since 1892 and Winters said the bank has a great team and a set of really good clients in the country." So it seems very natural for me to visit Sri Lanka, which is a very important market to us."