---
Despite Sri Lanka bets big on public-private partnerships (PPPs) to bridge its vast infrastructure requirements and also to reform its loss-making state enterprises, the greater political risk and issues in governance have hampered the ability for the two parties to shake hands with trust.

Manila-based multi-lateral project lender, Asian Development Bank (ADB), lists Sri Lanka among two other South and East Asian countries, where the prospects of PPPs are hampered by political risks.

Diverse risks such as political violence, risk of PPP projects being nationalized, new restrictions on currency convertibility and transfer, changes to other laws impacting such projects or adverse government actions including breach of contract, could put PPPs at risk in countries such as Sri Lanka.

"The ADB (2009) special study on ADB assistance with PPPs shows that political risk has constrained the development of PPP in Indonesia, Nepal and Sri Lanka," said ADB this month, issuing an update to its flagship Asian Development Outlook (ADO) issued in April 2017.

According to ADB, the factors that can make PPPs less attractive to prospective private partners are, inefficient government bureaucracy, corruption and political and government instability and they have massive implications for developing Asia's efforts to promote PPPs because most economies in the region score low on the quality of the legal and institutional environment.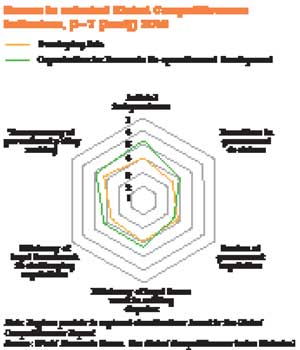 In its latest update themed, 'Sustaining Development through Public-Private Partnerships', ADB estimates that developing Asia will require investments of US $ 22.6 trillion from 2016 to 2030 in transport, power, telecommunications and urban water supply and sanitation to sustain the region's growth.

The figure goes up to US $ 26.2 trillion or by US $ 1.7 trillion annually when the climate mitigation and adaptation costs are factored in. This investment is 5.9 percent of the projected gross domestic product (GDP) in 2030.

ADB estimates developing Asia to grow by 5.9 percent this year and 5.8 percent in next, an uptick from 5.8 percent growth in 2016, due to the upturn in global trade supported by the recovery in the United States, Europe and Japan and robust investments in the region itself.

However, ADB is of the view that the region would not be able to sustain this growth purely through the public investments or multi-lateral development banks as these countries have done for decades because of the high fiscal deficits and deepening public debt. "However, even factoring in funds saved through public finance reform or received from multilateral agencies, a significant financing gap remains," said ADB President Takehiko Nakao, making a strong case for PPPs to bridge this infrastructure gap. These are the similar reasons why Sri Lanka is also forced to look actively pursue PPPs because the government operates with thin fiscal headroom and is mired in a debt trap. Although Sri Lanka already has a few successful PPPs in telecommunication and port sector, recent attempts to broad base the set up into other areas such as its national airline and other state-owned enterprises, have so far failed to make big breakthroughs. Perhaps this could be attributed to the poor governance record and high political risk highlighted by ADB in its study.

Sri Lanka in July set up a high-powered National Agency for Public-Private Partnerships to fast track the PPPs and appointed the former Board of Investment chief Thilan Wijesinghe as its Chairman and Acting Chief Executive.

"Meanwhile, a separate policy and institutional framework for the promotion, execution and management of PPPs, has emerged in many countries. Indeed, PPP is becoming not only a widely available and attractive form of procurement but also a manifestation of a broader development in governance that has redrawn the boundary between the public and private sectors," ADB said. However, the use of PPP for infrastructure delivery, particularly in developing Asia, remains limited, despite the global surge in its use.

A PPP is defined by the World Bank as "a long-term contract between a private party and a government entity, for providing a public asset or service, in which the private party bears significant risk and management responsibility and remuneration is linked to performance".
---
Dedicated units drive PPP success

ADB has also found out that the availability of dedicated units established for PPPs at arm's length from government offices has shown better results in those countries because such units enhance private sector confidence by signalling transparency, consistency and the government's commitment to provide a programmed approach to PPP development.

Dedicated PPP units are generally set up as a new agency or within a government division such as the finance ministry.
Sri Lanka in July set up its dedicated unit for PPPs, the National Agency for Public-Private Partnerships, through a cabinet decision in July, effectively replacing the division that operated under the Finance Ministry to handle the PPPs.

"A dedicated PPP unit enables public partners to disseminate information and provides specialized management advice on the procurement process to put the public partner on an equal footing with the private partner in PPP negotiations," ADB said. However, the World Bank in an earlier occasion said PPP unit efficiency is highly correlated with the success of a country's PPP programme. For instance, when South Korea established a PPP unit in 1998 and the rate of private participation as a percentage of total social overhead capital—in effect, central government infrastructure investment—increased by fourfold in the decade to 2008, ADB said in its report. Similarly, readiness in the Philippines for PPP improved dramatically when its PPP Centre was reorganized and strengthened. "The Philippines further demonstrates how useful it is to adopt a programmatic approach to developing PPPs. The Philippine PPP programme started in 2010, when the PPP Centre became the central coordinating and monitoring agency for all PPP projects," ADB, which had studied countries with and without dedicated PPP units, said. The key functions of the PPP unit in the Philippine are to include the provision of advisory and facilitation services, technical assistance, training and capacity development in project preparation and development and managing the project development and monitoring facility, a dedicated facility that prepares PPP projects. Further, it advocates reform to policy governing PPP.

"As important as PPP units are to PPP success, such units are lacking in more than 40 percent of the countries examined worldwide. The situation is worse in developing Asia, where the majority of countries still lack dedicated PPP units. This shortfall is particularly pronounced in Central Asia and the Pacific," ADB added.