---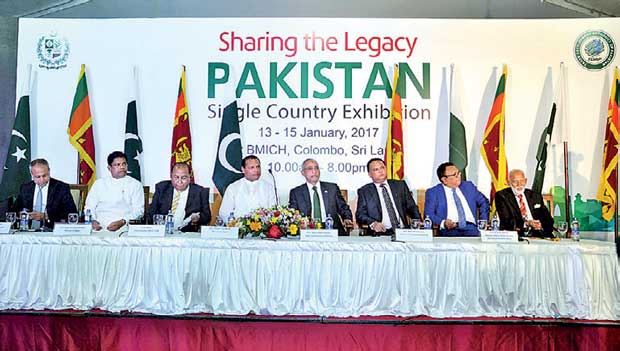 From left: Minister of Law and Order and Southern Development Sagala Ratnayake, Minister of Media Gayantha Karunathilaka, TDAP CEO S.M. Munir, Minister of Sports Dayasiri Jayasekara, High Commissioner of Pakistan to Sri Lanka Syed Shakeel Hussain, Minster of Plantation Industries Navin Dissanayake, Minister of Posts, Postal Services and Muslim Religious Affairs M.H.A. Haleem and State Minister of National integration and Reconciliation A.H.M. Fouzie
Pic by Nisal Baduge
By Zahara Zuhair
The second edition of the Single Country Exhibition of Pakistan was held at the Bandaranaike Memorial International Conference Hall (BMICH) last weekend.
Talking at the inauguration ceremony held Friday morning, High Commissioner of Pakistan to Sri Lanka Syed Shakeel Hussain urged the Sri Lankan government to explore Pakistani markets for Sri Lankan goods and services.
"As the economic relations between the two countries continue to grow, I also urge the Sri Lankan government to explore Pakistan market for Sri Lankan goods and services," he said.
To deepen the economic corporation between the two countries, he requested Trade Development Authority of Pakistan (TDAP) to grant Sri Lanka the status of 'The country of focus for 2017'.
Plantation Industries Minister Navin Dissanayake emphasised that Sri Lanka and Pakistan have been dear friends right from the beginning. "Both our countries share excellent relationships, and I see this relationship growing from strength to strength," he said.
He said this exhibition is an opportunity to strengthen friendship, and the strong bilateral relationship the both countries have. However, he told that much more can be done to further strengthen the bilateral ties between Sri Lanka and Pakistan.
"Pakistan is a huge economy. It is the second largest economy in the South Asian region which has much to contribute to economic development of our country. I personally believe much more can be done. I feel the peace in Sri Lanka since 2009 onwards, and the political stability in Pakistan which has been established after the last election should be a foundation stone for strengthening the economies. So, I feel Pakistan being a nuclear power in the world has much more to do for the people in Asia," he said.
Trade Development Authority of Pakistan CEO S.M. Munir said with wide range of products and services that Pakistan offers to the world, this exhibition provides the opportunity to increase investment and exports which will enhance bilateral relationships.
The three-day exhibition saw the participation of 156 Pakistani companies showcasing, engineering products, auto parts, aggro food, gems and jewellery, designer wear, textile clothing, handicrafts and traditional textiles, etc.
To coincide with the exhibition, Galadari Hotel Colombo hosted a Pakistani Food Festival from 11-15 January.
The exhibition was organised by The Trade Development Authority of Pakistan (TDAP), the apex agency of the Government of Pakistan engaged in the promotion and growth of country's exports in collaboration with High Commission of Pakistan in Sri Lanka.