---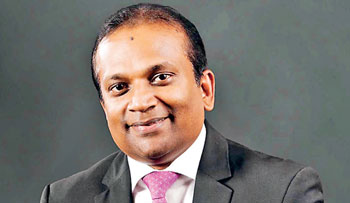 Diversified conglomerate Softlogic Holdings PLC saw its net profit falling 57.19 percent year-on-year (YoY) to Rs.43.58 million in the June quarter (1Q18), despite a resilient top line performance, due to
higher finance and administrative costs.

Earnings per share fell to Rs. 0.06 from Rs. 0.13 year-on-year (YoY).

Revenue for the quarter increased 6.24 percent YoY to Rs.15.16 billion, while cost of sales edged down 0.61 percent YoY to Rs.9.72 billion, resulting in a gross profit of Rs.5.44 billion, up 21.18 percent YoY.

"Healthcare sector was a key contributor to the gross profit growth during the period with increasing demand and bed occupancy in our four hospitals augmenting performance in an unprecedented manner," Softlogic Chairman Ashok Pathirage said.

Distribution expenses fell 21.57 percent YoY to Rs.667.77 million. Administrative expenses increased 30.56 percent YoY to Rs.3.32 billion, which Pathirage mainly attributed to the opening of the new city hotel Movenpick under the group's leisure arm.
Due to the group's increased borrowings and the high interest rates in the economy, finance expenses rose to 39.64 percent to Rs.1.26 billion, while net finance costs increased 27.69 percent YoY to Rs.947.93 million.

Insurance contract liabilities changed to Rs.237.22 million from Rs.30.78 million YoY, due to funds being transferred from the 'Life Insurance Fund' to the 'Shareholder's Fund' of Softlogic Life Insurance PLC, which contracted Softlogic's profit margin during 1Q18.

The group's tax expenses during the quarter also rose 132 percent YoY to Rs.230 million.

The group's asset base at the end of 1Q18 stood at Rs.102.71 billion, up from Rs. 101.63 billion at the start of the financial year.

The three months saw Softlogic's long-term interest bearing borrowings falling to Rs.27.94 billion from Rs.29.66 billion, while the short-term borrowings increased to Rs.7.14 billion from Rs.6.33 billion.
The tight monetary policy conditions saw long-term public deposits at the group's financial arm increasing to Rs.4.04 billion from Rs.1.99 billion within the three months, while short-term public deposits fell by a similar amount.

The financial services profits after tax (PAT) for 1Q18 fell 1.41 percent YoY to Rs.276.66 million, while revenue increased 18.9 percent YoY to Rs. 2.53 billion.

Similar to all other healthcare service providers that enjoyed high profits during the quarter due to the dengue epidemic, Softlogic's Asiri Hospitals chain too contributed strongly to the group with Rs.427.12 million in PAT, up 44.29 percent YoY.

Despite the high interest regime, retail operations posted a Rs.222.80 million PAT, up 138.38 percent YoY. The country's main festive season in April may have contributed to higher spending on Softlogic brands.

The opening of the new hotel, which has yet to hit its full stride, nearly quadrupled leisure and property segmental losses after tax YoY to Rs.227.46 million. The segment's revenue increased 126.06 percent YoY to Rs. 450.09 million.

"What requires improvement is the leisure sector's macroeconomic fundamentals, but occupancy rates are moving in the right direction at our hotels which will ensure those start-up costs are recovered much faster than projected," Pathirage said.

The information technology segment's PAT fell 16.77 percent YoY to Rs. 106.19 million, while revenue fell 11.70 percent YoY to Rs. 4.17 billion.

Pathirage said that the disruption of the Nokia business contributed to lower sales, although new Nokia handsets running on the Android operating system have now been launched. An Indian phone brand Intex was also launched in Sri Lanka by Softlogic to penetrate the affordable phone market.
As at June 30, 2017, Pathirage held 47.26 percent stake Softlogic while state-run Employees' Provident Fund held 0.93 percent stake being the 8th single largest shareholder of the company.