---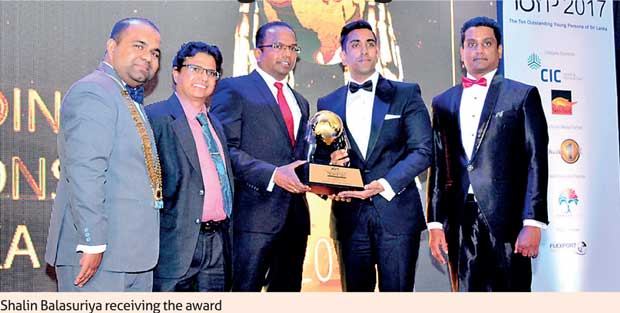 Entrepreneur Shalin Balasuriya was awarded the prestigious TOYP award

In the category of business, economic and/or entrepreneurial accomplishment at the awards ceremony held December 16th last year.

Junior Chamber International (JCI) serves to formally recognize young people who excel in their chosen fields and create positive change around the world. By recognizing these young people, JCI raises the status of socially responsible leaders in this world.

Since 1980, JCI Sri Lanka honored nearly 300 individuals from all around Sri Lanka through the Ten Outstanding Young Persons of the year award (TOYP). These winners were awarded with the Prestigious TOYP Award at the early stages of their career and they went on to achieve many more milestones in their professional life. The list of winners includes the cream of the decision makers and top game changers in many areas of the country. The list of past winners comprise of Kumar Sangakara, Arjuna Ranatunga, Otara Gunawardena, Nathan Sivagananathan and Bathiya Jayakody to name a few.

Shalin is the Co–founder of Spa Ceylon launched in 2009, and has since witnessed exponential growth both locally and internationally. The brand that re-positioned ayurveda, is currently recognized as the largest Luxury Ayurveda brand in the world with 62 locations across 12 countries, and aspirations to reach 100 stores across 18 countries by the end of 2018.

It is also the only Sri Lankan brand to have as many branded locations internationally and proudly carries the heritage of Sri Lankan through it extensive products range, packaging, store design and marketing in every country they enter into. Spa Ceylon has been recognized with several international awards for its extensive product range and signature spa concept including multiple wins at the world luxury Spa Awards 3 consecutive years.

Shalin's portfolio of brands directly employs over 600 staff, contributes significantly to export revenue in Sri Lanka and engages in multiple social responsibility projects. Shalin believes strongly in giving back to the country and community and works through the multiples brands in areas such as skill development, women empowerment, community trade, elephant conservation, reef conservation, reconciliation projects in the north and the continued creation of gainful employment.
Shalin also believes in sharing knowledge and is passionate about promoting young entrepreneurship and though leadership in Sri Lanka and regularly contributes to this through key forums and presentations covering entrepreneurship, branding and thought leadership.