---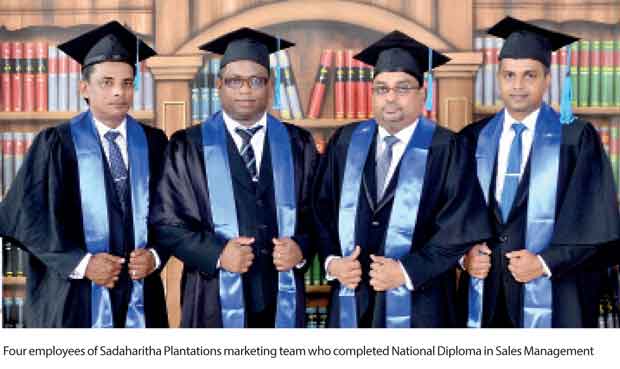 With the world focusing on the need to conserve the environment for posterity, commercial forestry has come to the forefront as a way of preserving planet earth's delicate eco system, encouraging more and more people to focus on keeping our world green.

Over the past 15 years, 26,000 investors have joined hands with Sadaharitha Plantations contributing to its success and increasing the country's forest cover.
While the branch network has grown to 25 over the years, Sadaharitha's workforce too has increased from 20 to 700 since the commencement of the business in Horana in 2002. Many qualified in agronomy and other agriculture-related professions as well as in sales and marketing have found that commercial forestry presents a solid, upwardly mobile career path at Sadaharitha.

More importantly, Sadaharitha offers job satisfaction that most people working at the company's forestry projects value more than the lucrative income they are happy to earn. "Our staff appreciates the opportunity they get to contribute to safeguarding the environment for future generations by contributing meaningfully to the delicate balance that biodiversity requires" explained Jayampathy Mirando, Director of Sales and Marketingat Sadaharitha.

"What's more, even our sales promotion officers, have adequate opportunity to rapidly climb up the corporate ladder. Rising from the position of a Junior Executive to a senior management level of even an Associate General Manager is possible for employees who demonstrate commitment and ability to achieve commendable performance by exceeding their targets" he said.

Jayampathy was eager to point out that at Sadaharitha, employees are encouraged and assisted to achieve professional development. The Company volunteers to meet the entire cost or part of the fee of a diploma or postgraduate or any other accepted course at a recognized institution such as the Sri Lanka Institute of Marketing (SLIM). "Recently a batch of four of our employees graduated, each gaining a national diploma in sales management, which gives us great pride," added Jayampathy.

Sadaharitha Plantations is the pioneer in commercial forestry in Sri Lanka carrying out extensive research and creating awareness about the advantages of investing in a forest which will generate a high income in just eight years. Agarwood is considered to be the ideal species for commercial forestry. Agarwood is a fragrant resinous substance that is used to manufacture perfumes, cosmetics and pharmaceuticals around the world.