---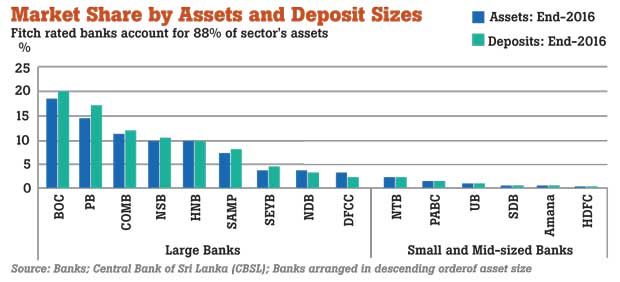 Sri Lanka's state-owned lenders such as Bank of Ceylon, People's Bank and National Savings Bank, have slightly lost their market share to privately held banks during the last three years, Fitch Ratings said.
But the three lenders still dominate the sector accounting for 83 percent of its assets.
According to Jeewanthi Malagala, a senior banking sector rating analysts at Fitch Ratings Lanka, the state-owned banks' market share weakened by 400 basis points during the last three years due to the rapid expansion of loans by the private sector lenders.
The state banks' market share could further weaken in the medium-term due to them having limited access to capital and substantial dividend payout, she said.
Due to their sole ownership structures, all state bank profits are absorbed by the government as its coffers remain shallow at all times.
During 2016, the state revenue target was predominantly met through the faster increase in the non-tax revenue, which included the profit transfers from state-owned enterprises.
Analysts both at home and abroad are of the view that the state-owned lenders will require substantial capital infusion in the wake of the BASEL III minimum capital adequacy requirements, which will come into full force from January 1, 2019.
The BASEL III transitional phase begins from July 1, 2017, with interim capital adequacy requirements till the banks meet the final ratios, which are substantially higher than the existing 5.0 percent and 10 percent.
Meanwhile, Fitch Ratings also showed that since 2013, Sri Lankan banks had grown their loans far exceeding the internal capital generation, which put caps on their ability to continue the same growth in the future.
The current pressure on banking sector earnings could also restrict the ability of the banks to generate internal capital and this remains specifically true for small and mid-sized leader.
The capitalization level of Lankan banks remains relatively weak even prior to BASEL III and their rush to beef up their capital buffers is likely to exert significant pressure on the country's capital market.
The relatively lower returns by the banks however will be a challenge to make capital calls from their shareholders.
Sri Lanka's top five lenders account for 65 percent of the sector's assets and the Fitch rated banks account for 88 percent of the sector assets.
Due to the challenging operating conditions that are expected, Fitch Ratings has a negative outlook on Lankan banks for 2017.