---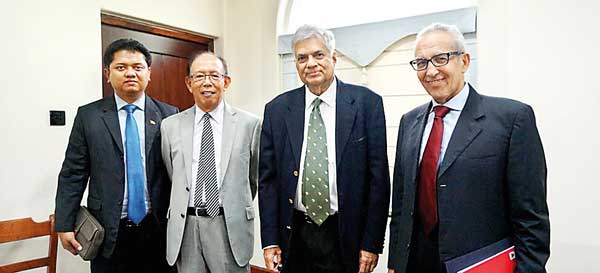 From left: Azhar Mat, Second Secretary / Head of Chancery, High Commission of
Malaysia, C olombo, T un Musa Hitam, Chairman, World Islamic Economic Forum Foundation, Prime
Minister Ranil Wickremesinghe, , Datuk Syed Abubakar Almohdzar, Managing Director, World
Islamic Economic Form Foundation
P r ime M i n i s t e r R a n i l Wickremesinghe has received a formal invitation to attend the 12th World Islamic Economic Forum (WIEF), an event if well represented by local businesses, would encourage Sri Lanka to explore and embrace concepts outside its comfort zone, according to the event organizers. The invitation was extended to the Premier by WIEF Foundation Chairman Tun Musa Hitam last Friday. Although his participation is yet to be confirmed, forum organisers expressed confidence in Wickremesinghe gracing the event. The annual WIEF serves as a focal point for country leaders, industry captains, emerging entrepreneurs, academics and other stakeholders of the Muslim world and beyond to meet and bridge gaps through businesses. Addressing journalists in Colombo,
Hitam said the WIEF will make an ideal platform for Sri Lankan business and industry representatives to explore areas such as sukuk for infrastructure financing, integration of Halal sectors and Islamic finance, expansion of the global Halal food industry and the development of the global modest fashion industry amongst others. The forum would give due emphasis to micro, small and medium enterprises (MSMEs) and aims at improving funding access to that segment while integrating them into the digitized trade. "The 12th WIEF aims at exploring the crucial role of Micro, Small and Medium Enterprises (MSMEs) in driving economic growth in economies around the world. And in that effort would support equity building, crowd funding platforms while spurring innovation by linking startups to corporations, and inculcating the culture of design-thinking for business," Hitam said.
He urged local businesses to attend the event and affirmed they would receive the much required attention, exposure, and technical expertise in new areas, such as Halal tourism. He opined the concept is vital for Sri Lanka to embrace as it looks to lure high spending tourists. Hitam added that special sessions for Sri Lankan businesses would be arranged if requested by the government. The 12th WIEF is scheduled to be held from 2 – 4 August 2016 In Jakarta, Indonesia. The event has travelled across the globe including Kuala Lumpur, Islamabad, Kuwait, Astana, Johor Bahru, London and Dubai.
Over 2,500 delegates and 60 role players from over 100 countries are expected to attend event. Hitam affirmed the forum will continue to build bridges through business by providing various networking platforms to delegates who wish to engage with potential business collaborators and investors, and to countries that intend to showcase trade opportunities and expand their business outreach. S u c h p l a t f o r m s i n c l u d e 'Complementary Programmes', 'Exhibition', 'IdeaPad', 'Business Exchange, '12th WIEF Linked Up', and the 'Business Networking Breakfast' Forum delegates can also look forward to the Marketplace of Creative Arts (MOCAfest) from 3-4 August 2016 to experience the dynamic relationships between business and the arts. This year's MOCAfest focuses on the creative artistic expressions from Indonesia's vibrant and diverse cultural communities, highlighting the concept of 'Unity in Diversity' as encapsulated in Indonesia's official motto of 'BhinnekaTunggal Ika' to promote peace and prosperity across the globe.