---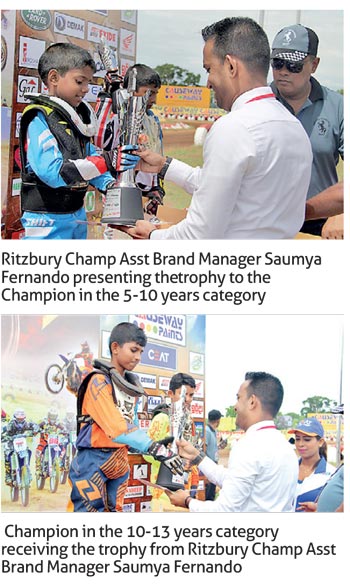 The annual 'Walawe Supercross', the event that attracts the country's racing enthusiasts to the Uda Walawe Supercross track at Sevanagala, Sabaragamuwa, was held this year for the seventh time with a significant difference.

CBL (Ceylon Biscuits Limited) stepped forward to sponsor the children's segment of the Supercross under its brand Ritzbury Champ creating an important milestone for the nation's youngsters. The children's segment of Walawe Supercross had not had a sponsor since its inception and Ritzbury Champ, a chocolate bar popular among young people, especially teenagers was an apt product to partner the event for the first time.
Walawe Supercross is jointly organized by the Sri Lanka Motor Cycle Club (SLMCC) and the Sri Lanka Army Electrical and Mechanical Engineering Regiment (SLEME) and is held on the track situated at the 17th Mile Post on the Uda Walawe - Thanamalwila main road close to the Uda Walawe National Wildlife Park. Proceeds from the race benefit war heroes in the Sri Lanka Army.

CBL Foods International Assistant Brand Manager Saumya Fernando explained that the brand values of Ritzbury Champ were associated with winning. He reiterated: "CBL firmly espouses the belief that children who are involved in energetic extracurricular activities, in turn become mature adults who are able to contribute to their communities and the nation, in an optimal manner. We are sponsoring this event in order to encourage children to take part. Ritzbury Champ embodies a system of values where studies are combined with participation in winning activities. Ritzbury Champ ideally stands for the inner champion in every child."

The Walawe Supercross this year was special. Renovations made to the 'Craftsman Autodrome' gravel track and the surrounding facilities resulted in better racing and safe viewing. Over 50,000 spectators thronged the aisles of the circuit track route and the races were televised live. The children's segment of the Group M Street Trail sponsored by Ritzbury Champ included racing motorcycles with 50cc for 5 to 10 years; 65cc to 85cc for 10 to 13 years and 100cc to 150cc for 13 to 16 years.