---
Renuka Foods rolled out an exciting and unusual competition to encourage consumers seeking a handy-sized, delicious thirst quencher to enjoy its popular range of Richlife milk in vanilla, chocolate, strawberry and ice coffee flavours.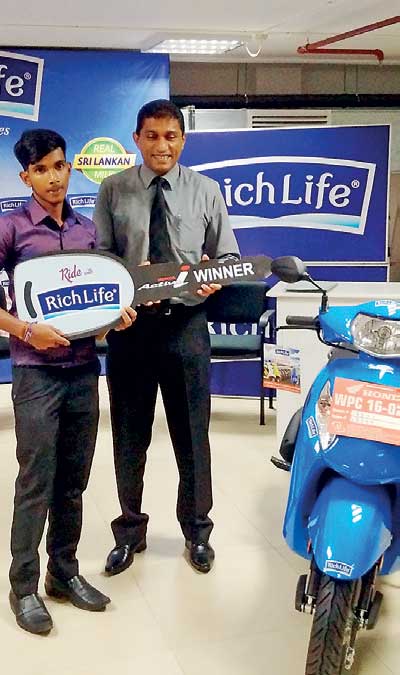 The competition went hand-in-hand with its sister product – Sungold Nectar that comes in orange, mango and guava flavours plus the fresh taste of Sungold king coconut.
The competition, publicized primarily through the company's enthusiastic activation team, invited consumers to cut out and send 3 front panels of the flavoured milk or nectar of their choice from the range and the first raffle draw was held in early March. The first prize awarded was a Honda Activa scooter while 10 lucky winners each won a smart mountain bike, through
a draw.
At the lucky draw the Chief Executive Officer, Nishantha Jayasooriya picked the first winner. Consolation prize winners were picked by Chief Operating Officer, Dinesh Nalliah Chief Human Resources Officer, Nilantha Jayasinghe; Finance Controller, Upul Weeraratne and Marketing Manager, Gayan Caldera
in the presence of Home Ministry officials.
The winner of the scooter was Lahiru Madusanka from Nakkiyadeniya. The other ten lucky winners of mountain bikes were R.M. Somaratna, G.G. Ariyawansa, Sarathbabu, S.Mabarak, Firzan, Mallika Dassanayake, M. Kandasamy, A.S.Abdullah and Mahesh Athula Manchanayake.
The competition is still in progress and two more similar lucky draws offering a Honda Activa scooter and 10 mountain bikes will be held in July
and October.