---
(Beijing) REUTERS: Once seemingly untouchable, Alibaba founder Jack Ma has endured a tumultuous run that saw his Chinese e-commerce giant hit with a record 18 billion yuan (US$ 2.75 billion) antitrust fine on Saturday, resolving one key uncertainty even as others persist for himself and his
business empire.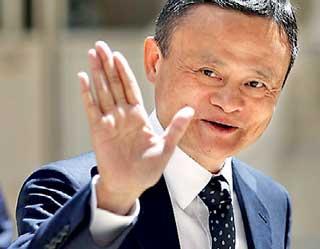 Jack Ma
The reversal of fortune for the 56-year-old Ma, who has all-but-disappeared from public view since an October speech blasting China's regulatory system, has been striking for an entrepreneur whose transformation of commerce in China - and his relentless optimism - commanded cult-like reverence.

Ma, who stepped down from Alibaba in 2019 but looms large in the corporate psyche and in the eyes of investors, had revelled in pushing boundaries with audacious statements, taking a high profile even as most Chinese peers kept their heads down.

Friends in high places, as well as pride in Alibaba's success, had protected Ma, sources have said.

That was until his Shanghai speech triggered a backlash that led to the scuppering of a blockbuster US$37 billion IPO for Alibaba financial technology affiliate Ant Group, as well as a clampdown by authorities on the e-commerce giant itself and the wider "platform economy," which continues to reverberate.

Ant, whose rapid growth and freewheeling lending practices drew regulatory concern about financial risk, remains subject to an enforced restructuring that is expected to rein in some of its most profitable businesses and slash its valuation.

"Entrepreneurship has to be disruptive.
But being provocative to the government has its limits," said Duncan Clark, chairman of Beijing-based tech consultancy BDA China and author of a book on Alibaba and Ma.

Saturday's settlement, he said, "should draw a line" under the matter for Alibaba.

"But for Ant and Jack, there's no line drawn yet," he said.

Alibaba declined to comment on Ma, and his foundation did not immediately respond to a request for comment yesterday.