---
Raw rubber prices have already gained by nearly Rs.100 a kilo or 33% since July
Ban on rubber-based product imports likely to stay until local production increases
Ban on raw rubber imports unlikely as they aid local value addition and exports
Sri Lanka's raw rubber prices, which remained depressed for many years, could see a rebound from the current import controls in place for rubber-based products, enhancing prospects for plantation companies and smallholders alike.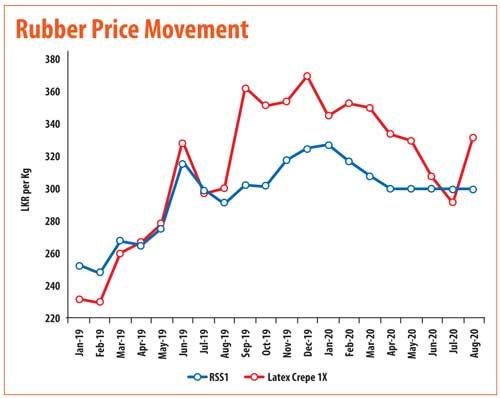 The government has restricted imports of rubber-based products, including tyres, as part of its broader curbs on non-essential imports, to contain the pressure on foreign exchange.

A recent plantation sector update released by equity brokerage SC Securities said "the import ban on rubber-based products will boost the demand for domestically produced rubber products" and thereby "will attract higher prices for locally produced rubber".

According to SC Securities, a subsidiary of Sampath Bank PLC, the import controls on rubber-based products could stay for some time, as the government is keen on providing assistance to local rubber-based producers, to ramp up their production.

For instance, the local tyre producers this week requested the government to continue with the current restrictions on two-wheeler and three-wheeler tyre imports,
citing they have adequate capacity to meet the local demand and could also produce for foreign markets, adding more jobs at home.

The prices of raw rubber have already gained in recent months, providing some relief to the battered regional plantation companies and the smallholders, with continuously depressed natural rubber prices remained for about eight years.

According to the auction prices available on the Rubber Research Institute of Sri Lanka website, the Latex Crepe 1X category, which averaged at Rs.275 a kilogramme on July 2, rose to Rs.335 a kilogramme, at the auction held on August 27.

In the most recent auction held on September 17, the price gained by a further Rs.30 a kilogramme to Rs.365.
However, these prices are far from their peak of nearly Rs.600 reached in 2012.

Nevertheless, these high prices remained only for two years, before declining to around Rs.200, which made the industry unsustainable and sent many smallholders out of production.

Smallholders account for 65 percent of the rubber production.

According to Planters' Association (PA) of Sri Lanka Immediate Past President Sunil Poholiyadde, the regional plantation companies were forced to offer work, as they had a permanent workforce and harvest latex in order to keep the workers employed, even though the cost of production was much higher than the sales average at the auction.

Speaking at the PA's Annual General Meeting held last week, he said he negotiated three wage increases, despite the prices remaining largely static.

The government last month said it was considering limiting imports of raw rubber used in local value-added industries, to encourage and promote local rubber cultivation and thereby afford the growers a higher price.

It has been proposed to look at a model for rubber imports, by matching the imports by a value-addition company with the amount of rubber it procures domestically.

But such a model could hamstring the industry, as local rubber production is nowhere near what the manufactures consume, since production cannot be ratcheted up immediately and the sector woes run deep.The local rubber production is half the local demand. While the annual demand for both Latex and RSS categories is 150,000 metric tonnes, the local production is only 77,000 metric tonnes, forcing the rubber-based manufacturers to import the shortfall.

The manufacturers and exporters of rubber products in Sri Lanka charged that a mafia of middlemen was trying to artificially manipulate the prices of raw rubber, by hoarding stocks and lobbying the government to control imports, so that their stocks could be sold at elevated prices.

SC Securities said such restriction on raw rubber imports is unlikely, as such imports are used for local value addition, which generates jobs and export earnings.

For instance, the brokerage cited the improved demand for rubber gloves from Sri Lanka, during the pandemic.
"COVID-19 is driving the global demand for rubber gloves. Sri Lanka being one of the leading rubber glove producers, local demand for rubber is increasing, fetching higher prices," SC Securities noted.