---
Finance Minister Ravi Karunanayake this week said protecting a fragile rupee was more important than controlling interest rates as the local currency tended not to rebound after a depreciation.
His comments came seven weeks after the Central Bank Governor said defending the rupee with foreign exchange reserves "doesn't seem sensible" as it has always been followed by a sharp depreciation.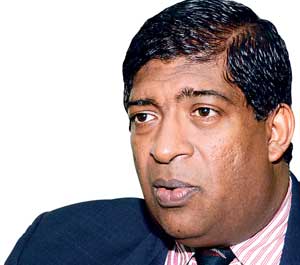 The rupee has weakened 0.7 percent so far this year, under pressure due to rising imports and net selling of government securities by foreign investors. It fell 3.9 percent last year, following a 10 percent drop in 2015. "Protecting the rupee is more important than interest rates at the moment," Karunanayake told Reuters in an interview. "You can bring back interest rates. When you have a depreciation, it's gone for life. It never appreciates," he said adding that past depreciations have failed to encourage exports as expected.
When asked the outlook on the interest rates, Karunanayake said, "There will be some fluctuations. Initially it will go up and then come down."
The Central Bank kept its key rates steady last week for a sixth straight month, but flagged possible "corrective measures" in the months ahead in a sign further tightening might be on the cards to safeguard a fragile rupee.
Sri Lankan policymakers face a tricky balancing act as the rupee comes under fresh selling pressure, hurt by capital outflows thanks to the Federal Reserve's more hawkish policy outlook and uncertainty caused by US President Donald Trump's policies on trade, immigration and international relations.
Foreign investors net sold Rs.31.38 billion (US $ 208.78 million) worth of government securities in the four weeks to February 8, according to the latest Central Bank data.
Sri Lanka has tightened the monetary policy three times since December 2015, while the government has kept a tight leash on fiscal policy in the past year to trim the budget deficit in line with a condition for a US $ 1.5 billion International Monetary Fund loan.
The tightening steps have dragged on the economy, which grew at a slower 4 percent annual pace in the first nine months of 2016 compared to 5.7 percent in the same period the year-before.
Karunanayake, however, said he expects the economic growth to be between 5.7 percent to 6 percent this year, compared to the Central Bank's estimated 4.5 percent growth last year.
REUTERS