---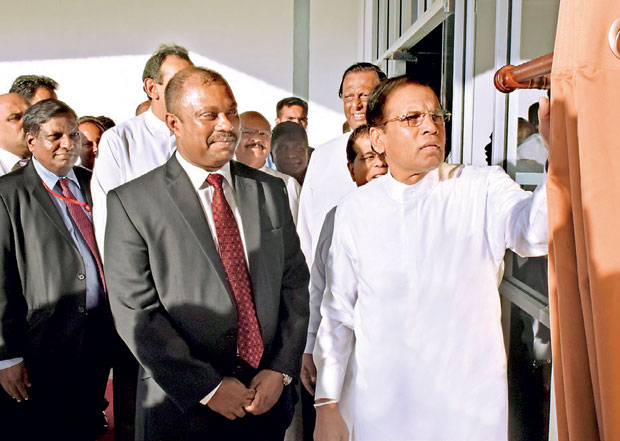 Singer Sri Lanka created a new milestone in logistics capability when President Maithripala Sirisena ceremonially opened the company's massive 75,000 sq.ft. logistics hub in Dambulla last week.
The chief incumbent of the Buddhist temple in the area, religious clergy representing all major religions in Sri Lanka, Cabinet ministers John Amaratunga, Nimal Siripala de Silva, Chief Minister of the Central Province Sarath Ekanayake, as well as a large gathering of dignitaries were present at the opening ceremony.

Also present were Singer management including Group CEO, Asoka Pieris, Director – Logistics, Shyam Ramanathan and Deputy Director – Service and Logistics, Ananda Manoratne.
The opening of the state-of-the-art logistics hub would result in doubling up Singer's speed of distribution while maintaining a streamlined inventory control to keep up with rapidly increasing growth in sales. The new Singer Logistics Hub located on a 5.5 acre extent of land in Dambulla will cater to the needs of 180 company shops and 200 consumer durable dealers in the North Central, Northern, Eastern, North Western and Central Provinces. The ultra-modern hub will also supply 250 dealers of tractors and agricultural hardware products bringing Singer's products closer to the farming consumers.

The Singer logistics hub is equipped with the latest technology to ensure safety and uninterrupted operationvia wireless communication, CCTV, surge arresters and a 150 KVA generator and the latest distribution management system for on-time deliveries. The storage capacity of the hub will also be extended by using a double deep racking system.

The logistics hub is on long term lease from K.S.T. Group of Companies, who purchased the land and constructed the complex to Singer's specifications.

The Group CEO of Singer (Sri Lanka) Asoka Pieris thanked His Excellency the President and other dignitaries for attending the event. He said that the private sector too is involved in developing the country and President's presence was an encouragement to the private sector.

He further commented: "All this time the distribution of goods to all of Sri Lanka, including these areas were done from the main distribution centre and sub distribution centres in the Colombo district. By bringing a distribution hub to this area, we are getting closer to our customers and therefore could provide a better service to our customers. We also help to develop this area". K.S.T Perera, the Chairman of K.S.T Groupdelivered the vote of thanks.