---
Cancellations reach 20% at some hotels
State-run airline hit by weak European demand
Latest setback for island economy after rating downgrades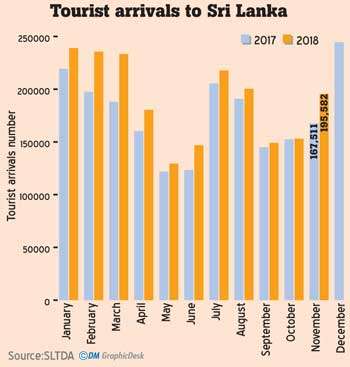 (Colombo) REUTERS: Sri Lanka's travel industry is starting to suffer the fallout of a political crisis in the middle of its peak tourist season, as uncertainty prompts cancellations by both business and leisure visitors.

Tourism makes up about 5 percent of the Indian Ocean island's US $87-billion economy, but the President's sacking of the Prime Minister late in October triggered a crisis that credit rating agencies say has already hit economic prospects.

"We have cancellations in the region of about 20 percent," said Chandra Mohotti, a manager at the luxury Galle Face Hotel in the capital, Colombo, which has about 200 rooms.

"Normally our hotel would be full. We are offering discounts because of the fear that allocations will not be utilised."

Peak season for holidaymakers from Europe, a major source of tourists, along with India and China, typically runs from December to March.

But numerous flight bookings have been cancelled, especially from Europe, a source at national carrier SriLankan Airlines told Reuters. "The crisis started just when tourists take a decision where to go," said the source, who declined to be named. "(It) has discouraged many of them."

Mahinda Rajapaksa, who replaced Ranil Wickremesinghe as Prime Minister, lacks a parliamentary majority and has been prevented by a court from holding office, delaying the 2019 budget and leading to violent scenes in parliament.
Business travel has also been hit by the crisis, with firms moving meetings to elsewhere in Southeast Asia.

"There have been some cancellations and some have shifted to Singapore and Indonesia," said Sanath Ukwatte, President of The Hotels Association of Sri Lanka (THASL), adding that conference and exhibition bookings were the worst hit.

Harith Perera, President of the Sri Lanka Association of Inbound Tour Operators (SLAITO), said he had also seen cancellations in the corporate sector.

"At the moment bookings have slowed down and that is a concern," he said. "If the current crisis drags on, then the impact will be significant. Cancellations are not only from European tourists, but from everywhere."
---
November tourist arrivals up 17%; tourists from India, Europe surge
Seemingly undeterred by the ongoing political crisis, which was triggered on October 26, the November tourist arrivals to Sri Lanka rose 16.8 percent year-on-year (YoY) to 195, 582, the data released by the Sri Lanka Tourism Development Authority showed.

Asia and Pacific continued to be the largest source of tourist traffic to Sri Lanka with 47 percent of the total traffic received in November 2018.
India, United Kingdom, China, Germany and Australia were Sri Lanka's top five international tourist generating markets in November.

India was the largest source of tourist traffic to Sri Lanka with 20 percent of the total traffic received in November. United Kingdom accounted for 11 percent of the total traffic, while China, Germany and Australia accounted for 10 percent, 10 percent and 5 percent respectively.

Arrivals from Asia & Pacific region rose 2.4 percent YoY to 91, 406. South Asian arrivals led by India rose 8.4 percent YoY to 49, 378. Tourists from India during November rose 21.4 percent YoY to 49, 378.

Chinese arrivals fell slightly by 1.8 percent YoY to 18, 888.

Tourist arrivals from Europe rose 37.1 percent YoY to 89, 716, led by tourist arrivals from the U.K and Germany, which rose 61.1 percent to 21, 971 and 89.6 percent to 18, 754 respectively.

Arrivals from Switzerland also rose 85.7 percent YoY to 3, 531 largely owing to chartered flights from Switzerland.

Tourist arrivals from Russia rose only 2.9 percent YoY in November to 8, 090.

Meanwhile, arrivals from Americas—mainly the U.S. and Canada—rose 23.9 percent YoY to 10, 183.

Visitors from the Middle East however recorded a 12.1 percent YoY decline to 3, 235.

The cumulative tourist arrivals in the first 11 months of 2018 were little over 2.08 million, up 11.2 percent YoY.

Although the tourism authorities were originally targeting to attract 3 million tourists this year, it is likely that Sri Lanka would end 2018 with around 2.3 million tourists.
Tourist arrivals in 2017 hit an all-time high of 2.11 million, which represented a 3.2 percent YoY growth. Tourism revenues rose by a similar percentage to an all-time peak of US$3.63 billion.

According to the provisional data released by the Central Bank, earnings from tourism during the first nine months of 2018 rose 11.6 percent YoY to US $ 3.21 billion.
The government had originally set a US$ 4.5 billion earnings target for the industry this year.