---
Overseas Realty (Ceylon) PLC (OSEA), the local unit of the Singapore-based real-estate group, Shing Kwan Group, saw its March quarter (1Q17) net profit rising by 21 percent to Rs.881 million or 72 cents a share from a year ago, supported by a hefty foreign exchange and fair value gains made on the group's investment property, the interim results showed.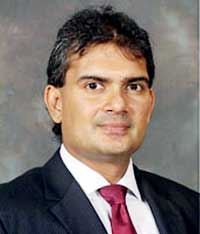 OSEA, the owners of the World Trade Centre buildings in Echelon Square in Colombo, saw its rental income rising by 6.0 percent year-on-year (YoY) to Rs.503.7 million but recorded zero income from apartment sales.
This was due to the Havelock City Phase 3 sales are in progress because such sales are accounted in the financial statements as the construction of the building is being completed.
Havelock City Residential Phase 3 was launched in March 2016 and by end-2016, around 31 percent of the units were pre-sold.
While the construction of Havelock City Phase 3 is currently underway, the piling work for Phase 4 is scheduled to be completed by April 2017, the company said in a statement.
The Phase 3 and Phase 4 of the Havelock City project are slated to be completed by end-2019 and 2020, respectively and will add 600 new apartment units.
During the period under review, the fair value gain on the investment property was Rs.316 million, unchanged from a year earlier, while the exchange gains jumped to Rs.139.4 million from Rs.544 million a year ago.
In January 2017, the company raised Rs.7.3 billion via a rights issue to fund the proposed mixed development project of Havelock City (Private) Limited, a sub-subsidiary of OSEA.
Apart from the residential component, Havelock City is also working on a commercial complex. The commercial complex will consist of a world-class 'A grade' office tower and a shopping mall built to international standards with a fusion of retail, dining and entertainment.
Meanwhile, part of the rights issue funds – rupee equivalent of US $ 13 million – was utilized to settle a loan from Bank of Ceylon taken to part finance the purchase of balance 40 percent stake in Mireka Capital Land Private Limited (MCL).
OSEA invested Rs.3.88 billion on December 30 to purchase the balance 40 percent stake in MCL. OSEA owned a 60 percent stake in Mireka before the deal.
The all-cash deal appears to be attached with a further payment of Rs.243.2 million, being 40 percent of the value, contingent on any favourable outcome or benefit upon accruing to the Mireka group at a future date.
By March 31, 2017, Mireka and its subsidiaries had commitments amounting to Rs.5.25 billion in respect of Havelock City Residential and Commercial developments.
During the quarter under review, several changes have taken place in the composition of the shareholding structure of the company.
As of March 31, 2017, Singapore-based Shing Kwan Investment Company Limited held a 38.43 percent stake in the company, down from a 53.8 percent stake held in December 2016.
Meanwhile, Jiangsu Tao Shing Pee Education Foundation, an entity established by OSEA Chairman S.P. Tao, had purchased a 24 percent stake being the second largest shareholder.
Meanwhile, Unity Builders Limited, which held a 26.12 percent stake, had also shed its stake to 18.66 percent, losing its place from the second largest to the third largest shareholder.
OSEA Director/CEO Pravir Samarasinghe has also purchased one percent of the company being the eighth largest shareholder.