---
National Development Bank PLC (NDB) has turned acquisitive to accelerate growth during the five years through 2025, as the lender is lining up funds to bolster its capital base to fund its next wave of growth.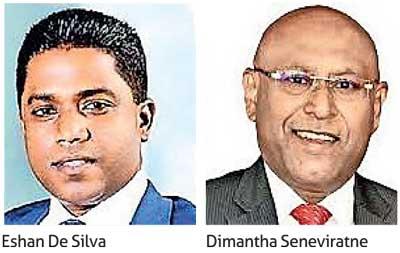 Laying out its future strategic direction, NDB Chairman and Chief Executive Officer are explicit of their intentions to pursue acquisition deals, with the bank's board of directors approving the revised strategy for the next five years via inorganic growth.

The acquisition strategy augurs well with the bank's desire to grow aggressively and is also in line with the market-driven financial sector consolidation promoted by the Central Bank.
NDB has been shoring up equity and debt capital to stay above the minimum capital rules, with an eye for fast-paced growth.

"The bank's recent rights issue, which was announced in October 2020, will net Rs.8.0 billion, enhancing its capital position and providing a solid platform to pursue organic and inorganic growth," NDB Chairman Eshana De Silva said, adding that the bank is pursuing further funding lines from several multilateral funding agencies.

In what was considered as the largest equity infusion by a foreign funder in a local bank since 2014, Norfund, the Norwegian Development Finance Institution recently announced a deal to invest over Rs.3 billion in NDB, for an equity stake of 9.99 percent.

"The group's improved capital strength has aptly positioned it to drive its ambitious targets, as we pursue organic and inorganic growth to solidify our position as a leader in Sri Lanka's financial services sector," NDB Group CEO/Director Dimantha
Seneviratne said.

While there were a number of licensed finance companies announcing mergers and acquisition deals since last year, the licensed banks are yet to make any such announcements.

NDB certainly could be in the fray for value accretive merger and acquisition deals, as the bank's growth appetite, both at corporate management as well as board levels, remains high.
NDB wants to double its asset base to join the trillion rupee club during the next five years, which would require it to roughly grow its asset book by 10 percent every year.

The Rs.627 billion asset-rich bank reported earnings of Rs.5.1 billion for the year ended on December 31, 2020, up 7 percent from 2019, as it successfully weathered the pandemic-induced headwinds.