---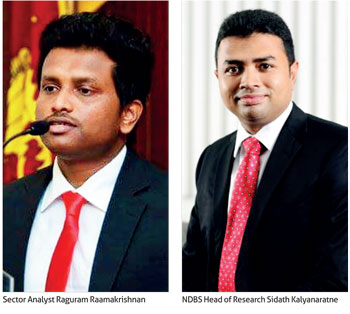 NDB Securities Ltd (NDBS), a top brokerage firm in Sri Lanka, released update on the fast-moving consumer goods (FMCG) sector recently.
NDBS Head of Research Sidath Kalyanaratne commenting on the publication said, "We are a research house that conducts studies on 11 important sectors in the country.
In addition, we have a separate coverage on the macro economy. Last year we released eight sector reports along with the counters that are listed on the Colombo Stock Exchange (CSE).
Further, we have been prompt in conducting earnings updates on the key counters that are in our coverage universe. Moreover, we have been proactive to find ways to improve information asymmetry amongst the investment community. Our reports have been positively accepted by the country's high-net-worth individuals, fund managers, retail investors and the public alike. Their trust shown on our efforts was reflected by the gold award we won for the best stockbroking research team at CFA Sri Lanka Capital Markets Awards 2016."
He further stated, "Beverage, food and tobacco (FBT) is the second largest sector in the CSE in terms of market capitalization. Hence, it's important to have a comprehensive study on the sector along with timely updates that may enable investing public to have a better understanding on the sector dynamics. The latest publication would be an update on our FMCG sector initiation report released in June 2016."
Sri Lanka is a consumption-heavy economy with consumption as a percentage of gross domestic product (GDP) continues to hover around 75 percent of GDP among which private spending dominates with an 88.7 percent share in 2015. Expenditure on FB&T (Food and non-alcoholic beverages (F&B), alcoholic beverages and tobacco) recorded a five-year CAGR of 6.6 percent during 2011-2016.
In 2015, the expenditure on FB&T recorded a significant year-on-year (YoY) growth of 17.8 percent in comparison to 5.6 percent YoY growth recorded in 2014, mainly due to one off salary increase that took place in January 2015 for the public sector employees (17.6 percent of the total workforce) and single digit lower inflation that was prevailed during the year. However, in 2016, the expenditure on FB&T slowed to 5.8 percent amidst increase in taxation, currency depreciation and uptick in inflation as well as increasing interest rate environment seen during the year.
Sector Analyst Raguram Raamakrishnan stated the expected per capita income growth in the country continues to be the key demand driver for the sector whilst population growth, reduction in income disparity and demand from the tourism sector are expected to be supplementary drivers. However, he expects a slight slowdown in spending on FB&T in the short term, despite the sector's reputation as a staple industry, mainly due to the tightening monetary policy as well as increase in inflation. Hence, NDBS research estimates a five-year CAGR (2017 – 2021) of 8.1 percent for FB&T.
He further added, "In the F&B segment, the NDSB research continues to be optimistic on the demand dynamics of dairy products such as fresh milk, yoghurt and ice-cream as well as meat products such as chicken. The supply dynamics for dairy products are expected to improve with Government of Sri Lanka (GoSL) initiatives to promote local production.
Currently, 77.0 percent of the diary segment in the country is dominated by imports compared to 80.0 percent in 2012. On the poultry segment, despite the escalation in the feed cost (which contributes to an estimated 70 percent of the total cost) and regulation on controlled selling prices of whole chicken, we remain optimistic on the segment.
While commenting on alcohol sector he said "NDBS research is moderately optimistic on hard liquor mainly due to rise in per capita income coupled with growth in tourist arrivals. However, threat from illicit products remains a concern for the industry. Beer could be a potential longer term option amongst drinkers as it has been perceived as a less harmful alternative for hard liquor. However, recent excise duty hike made taxes on beer higher than hard liquor based on pure alcohol content and has impacted beer sales growth whilst slowing down the conversion from hard liquor to beer. Hence, we remain pessimistic on beer product".
While commenting on tobacco segment he tends to be pessimistic mainly due to GoSL plans to restrict the growth of cigarettes. In the fourth quarter in 2016, the per cigarette price increased by 43 percent to LKR50. In addition to excise hike and VAT introduction, the industry also impacted by the exponential growth in the beedi market and illicit products.
He remains optimistic on retail trade (especially on modern trade) due to increasing spending power amongst households, increase in retail penetration as well as due to increasing interest from foreign retail sector investors (direct and indirect) to enter into the country.