---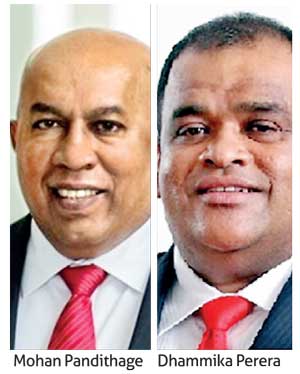 Following the acquisition of Singer (Sri Lanka) by Hayleys PLC last month, Hayleys PLC Chairman and Chief Executive Mohan Pandithage was appointed as Chairman of Singer (Sri Lanka) and business tycoon and Hayleys Co-Chairman Dhammika Perera was appointed as Co-Chairman of Singer (Sri Lanka), at a board meeting held at the Singer (Sri Lanka) head office.

These appointments are effective October 2, 2017. Both Hayleys and Singer collectively account for a market presence of over 280 years.

Commenting on the appointment Pandithage stated, "In alignment with our group's growth-oriented vision, my leadership team and I look forward to leveraging the time-tested and extensive expertise of Singer Sri Lanka, along with the tremendous diversity of the Hayleys group. We are extremely excited over the immense scope of business opportunities that await both entities in the journey ahead."

Elaborating further he added, "We look forward to bringing a wide range of innovative, high-quality lifestyle products, which are truly affordable to the heart of Sri Lankan society." Perera stated, "With this historic acquisition we are confident that we will make a tangible change to Sri Lankan homes and lifestyles, given the strength of Singer (Sri Lanka), one of the most iconic and trusted retail brands in
the country.
We believe that this dynamic fusion of centuries-old expertise of two of the most respected corporate entities will take Hayleys PLC, the largest conglomerate in the country, to unprecedented heights. We will build on Singer (Sri Lanka's) brand equity and islandwide retail network in alignment with our forward-thinking approach."