---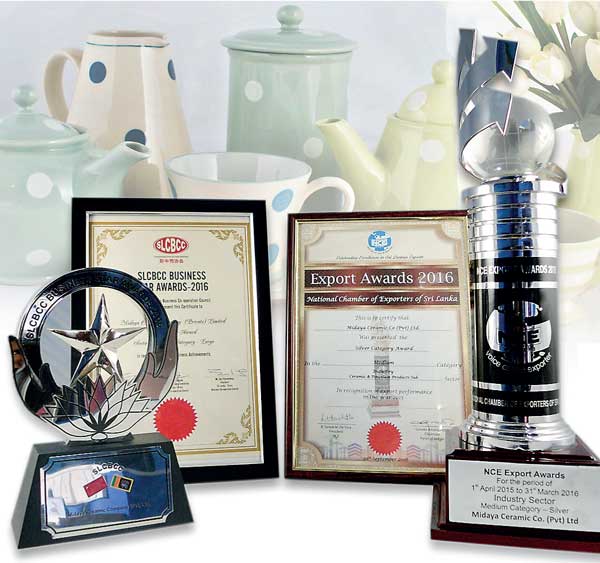 The National Chamber of Exporters and the Sri Lanka China Business Co-operation Council recently honoured Midaya Ceramic Company by awarding them Silver award in the medium category in the ceramics sector and the Silver award in the large export category respectively.

Midaya was established in 1968 by Dayasiri Warnakulasooriya. They are ISO 9001:2008 certified and is currently the most experienced ceramics manufacturer in Sri Lanka concentrating on niche, handmade ceramics for the export market. They mainly produce handmade tableware, kitchen accessories, bathroom accessories, hotel ware, homeware and ornamental utility ware. By adopting a niche marketing strategy, they have been able to remain viable in an industry now mostly taken over by low cost Chinese manufacturers.

"We never compromised on quality. We constantly adapted to the fast-changing market and kept gaining skills to manufacture the most complicated and intricate ceramic designs. Our strategy to give our clients the best quality with the most flexibility worked and we managed to stay in business through the most challenging of times" said Midaya Ceramic Managing Director Anura Warnakulasooriya.

Midaya has recently entered the Sri Lankan market by launching unique, handmade giftware and kitchen accessories for tourists and local ceramic aficionados. They opened their first showroom in Nugegoda where they sell their hand-made ceramics at a fraction of the European retail cost.