---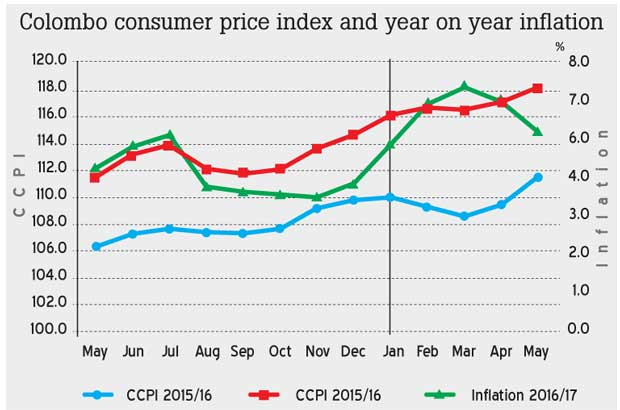 Sri Lanka's headline inflation moderated to 6.0 percent during the 12 months to May, from 6.9 percent in April mainly as a result of the base effects, but the month-on-month (MoM) prices saw a 0.9 percent increase due to significant increase in food and beverage prices.
Sri Lanka's inflation has been easing from a multi-year peak of 7.3 percent reached in March due to the dual impact of supply and demand side constraints. The prolonged drought led to poor supply while the faster growth in credit fuelled the demand side price pressures.
During May, the food and beverage price increase accelerated to 2.3 percent from 1.7 percent in April due to increase in prices of rice, fish, coconut and vegetables.
While much of this could be attributed to crop losses due to heavy rains during the final two weeks of the month, the prolonged drought which prevailed till very recently, may have also contributed to the poor supply.
The food prices are expected to remain elevated during the next few months due to crop losses and reduced cultivation as a result of the recent floods.
The Central Bank however expects to keep the inflation around mid-single digit levels by end-2017 despite some monthly fluctuations.
Nevertheless, possible fiscal excesses, stubborn growth in private sector credit, higher borrowings by the government and the state-owned enterprises could pose a challenge to achieving the target.
Meanwhile, non-food prices rose by 0.3 percent in May on month-on month basis mainly due to recreational activities such as restaurants and hotels, utilities such housing, water, electricity and other fuels and miscellaneous goods and services category.
The core-inflation measured after eliminating significantly price volatile items such as food and energy eased to 5.2 percent during the 12 months to May from 6.8 percent in April but it rose by 0.5 percent during the month, faster than the 0.1 percent increase in April.
The moving average inflation was 5.4 percent, slightly up from 5.3 percent in April.