---

The BOI organized an interactive meeting at the Biyagama Export Processing Zone (BEPZ) where the keynote speaker was Development Strategies and International Trade Minister Malik Samarawickrama.

The minister was also assisted by BOI Board Members Sagara Ratnayake and Mangala Yapa and Duminda Ariyasinghe, Director General of the BOI. Also present were senior officials of BOI including M. K. D. Lawrance - Executive Director (Zones) and Athula Jayasinghe - Zone Director of the BEPZ.

The Biyagama Export Processing Zone is the second zone of the BOI to be established. It has total area of 450 acres and is operating at full capacity. The zone employees total 21,136 and hosts 57 enterprises. Of these 18 are in the apparel sector, 13 in rubber manufacture, 6 in services, 2 in electronics, 2 in granite and marble, 1 security printing and 1 sail and water sports goods manufacture and 14 others.

The BEPZ is a significant contributor to the national economy with an export value estimated at Rs.134 billion (US$849 million) and importing Rs.58 billion (US$368 million) worth of raw materials. In 2017 25,661 workers were employed at the BEPZ. Many leading enterprises are located at the BEPZ including Ansell, Trelleborg, De La Rue, MAS, Noyon and Stretchline.

Minister Samarawickrama thanked the investors for their contribution especially in the area of employment and exports. He stated that Sri Lanka's target is to export US$17.1 billion worth of goods and services in 2018. While FDI had reached US$1.9 billion, the target for 2018 was US$2.1 billion.
He appreciated the efforts of the BOI officials in making this possible and thanked the Chairman and Board members for the direction they had provided. He said, "We have made efforts to change the mindset at the BOI". Furthermore the Minster said that if the last 3 year 3000 workers had been hired at the BEPZ despite concerns of a difficulty in finding workers.

Samarawickrama said that the training of youth to work in factories. The minister also added that the German Government will set up a new technical centre in Matara to train youth in technical areas, so that they may contribute by working in industry.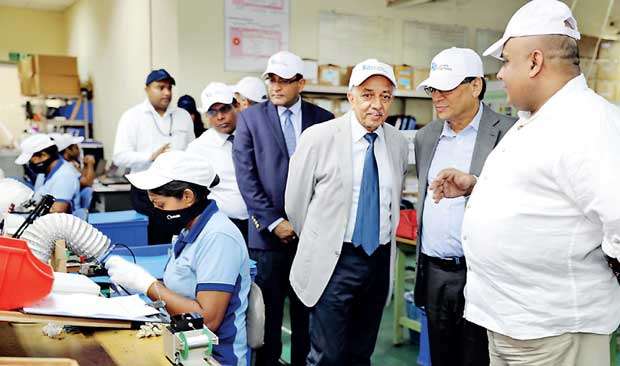 Minister Samarawickrama also stated that the present government's development plan was focused on attracting FDI and also boosting the private sector. The minister also spoke of the plan in the country to set up 3 to 4 new zones at Mirijjawila, Millenniya, (with Thai collaboration), Bingiriya in Kurunegala and Mawathagama. Furthermore there would also be a possibility of a new zone in Weligama. He added that no new zone had been built since 2002.

Duminda Ariyasinghe, Director General of the BOI stated that a screening committee had been established to look at every issue and provide a solution. "Within 24 hours a solution is brought to issues. The BOI Is now an evolving organization. We are also focusing on reinvestments and had a very successful visit to Switzerland and Italy to look at reinvestment by enterprises".

Speaking on behalf of the Investors at the BEPZ Andrew Hydes Director & Head of Operations Sri Lanka of De La Rue spoke of this Company's experience as an investor in Sri Lanka.

In 1984 De La Rue was registered in Sri Lanka as a BOI enterprise. Their first contract was to print 50 million rupees worth of bank notes for the Central Bank of Sri Lanka. Hydes said that now 88 percent of the production of bank notes by De La Rue is exported to countries in South America, Asia and Africa. Hydes further said that what BOI offers the investors is security, environmental support and paperwork and investor services and thanked the BOI in that connection.

The investors at the BEPZ shared some of their thoughts on their operation at the Zone. Timothy Speldewinde, CEO, Stretchline Holdings Limited stated "We are very happy during the last 22 years we have been at the BEPZ. However, we would like to see the matter of solid waste also addressed by converting it to valuable energy. Overall we have built over the years a relationship of trust with the BOI and BEPZ is a pleasant Zone to be based in". Andrew Hydes added "De La Rue are very happy with our relationship and look forward to future projects. The previous 30 years have been very successful and we look forward to the future".

The minister and officials are also met with the zone workers, trade unions representatives and thereafter visited two factories at BEPZ, North Manufacturing (Pvt) Ltd., and Lanka Harness (Pvt) Ltd.