---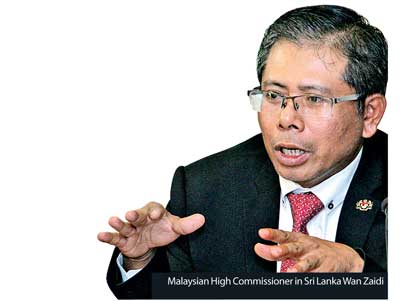 By Chandeepa Wettasinghe
Malaysia is ready to start negotiations on a Free Trade Agreement (FTA) with Sri Lanka, though the island nation needs to improve its export production capacities, the Malaysian High Commissioner in Sri Lanka Wan Zaidi Wan Abdullah said yesterday.

"We are ready to start negotiations. The Malaysian side has indicated that they want to negotiate the scope of the agreement first," Abdullah said yesterday at the latest Meet the Ambassador edition organised by the National Chamber of Commerce of Sri Lanka.
However, he notes that Malaysia is keen to finish both the framework and final agreements after extensive discussions.

"We're hoping that the FTA will be fully negotiated in 18 months, totally an average of two to two and a half years," he further added.

In comparison, Sri Lanka's trade agreements with India, China and Singapore are expected to be completed by mid-2017 after negotiating framework agreements over a few weeks in August and September, though there had been lengthy earlier discussions in the cases of India and China.
Abdullah noted that bilateral trade between Sri Lanka and Malaysia could easily reach US$ 1 billion, as the South East Asian nation continues to move towards a services based economy and increases demand for manufactured products..

"But the Export Development Board needs to ensure that Sri Lankan product standards are improved in quality, price and attractiveness," he said.
He pointed out that this is because Sri Lanka's exports to Malaysia have fallen by 43.3 percent year-on-year (YoY) in the first 9 months of 2016, compared to a 3 percent YoY gain in imports from Malaysia, and said that Sri Lanka needs to strengthen its manufacturing sector as well.
Sri Lanka had made exports worth US$ 89.5 billion to Malaysia in 2015, compared to imports of US$ 481.4 million.
Abdullah noted that though exports have fallen this year, there is plenty of room in the market for Sri Lanka to export rubber, apparel and gem markets in Malaysia, and to break through with agricultural exports such as rice and chicken, products which Malaysia is not self-sufficient in. He further added that Sri Lanka should market its high quality tea in Malaysia. "Malaysians drink a lot of tea. They drink tea every morning, but it's a low quality, blended tea. We need to encourage Malaysians to drink high quality tea," he said.

Meanwhile, he noted that although Malaysian companies have over US$ 2 billion in foreign direct investments (FDIs) in Sri Lanka, going forward, if Sri Lanka wanted to attract Malaysian manufacturing FDIs, the island had to improve its infrastructure

He said that this is because Malaysian companies have been pampered with high quality infrastructure at home. Many Asian countries have recently started showing their keenness to sign FTAs with Sri Lanka, and Central Bank Governor Dr. Indrajit Coomaraswamy has noted that Sri Lanka can use good government-to-government relationships with its Asian neighbours to push for increased trade and investments.