---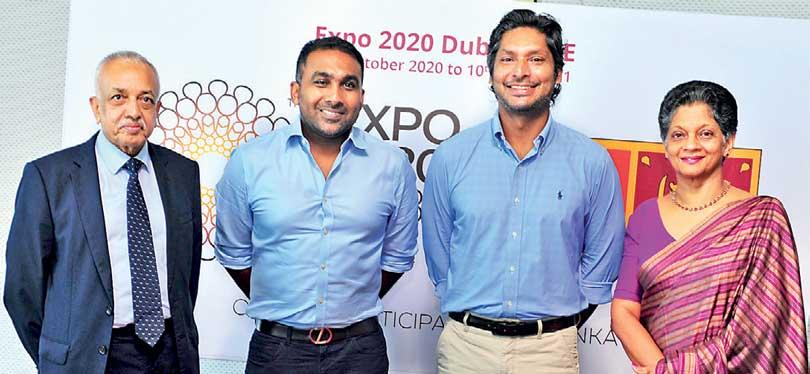 From left: Minister Malik Samarawickrama, Mahela Jayawardena, Kumar Sangakkara and Export Development Board Chairperson Indira Malwatte
Sri Lankan cricketing legends Mahela Jayawardena and Kumar Sangakkara have come on board as Sri Lanka's brand ambassadors for Expo 2020 Dubai to be held from October 20, 2020 to April 10, 2021, in the UAE.

Both Mahela and Kumar, cricketers having captained the Sri Lankan team have amply demonstrated their leadership, team spirit and enterprising qualities beyond the cricket field expanding to the business world.

Kumar recently obtained the rare honour of becoming the first non-British President of the Marylebone Cricket Club (MCC), which is the custodian of the
Laws of Cricket.

Mahela has become a successful international coach, guiding the team Mumbai Indians for two championship titles in the famous Indian Premier League (IPL) tournament. Expo 2020 is a mega trade exposition to be held in the UAE under the theme of 'Connecting minds, Creating the future' with more than 190 participating countries and over 25 million visitors from across the world to create, collaborate and innovate to generate a sustainable future.
Sri Lanka will have its own dedicated pavilion at this 6-month-long mega exposition under the sub theme of 'Opportunity', and the pavilion will be branded under the title 'Island of Ingenuity'.

Sri Lanka's pavilion and other related activities during Expo 2020 will be organised as a public-private cooperation project under the theme 'Water', which has been designed by Moratuwa University students.

Expo 2020 Dubai platform will be used to promote and brand Sri Lanka as a country with diverse opportunities in the spheres of tourism, trade and investment.

Given the magnitude and the global attention the event will attract, Sri Lanka will make use of world renowned Sri Lankan personalities to promote the country. "We are extremely grateful to the two of the world class cricketers produced by Sri Lanka , Mahela Jayawardena and Kumar Sangakkara for assisting the Export Development Board and the private stakeholders to promote Sri Lanka at the Expo 2020 in Dubai," Development Strategies and International Trade Minister Malik Samarawickrama said.