---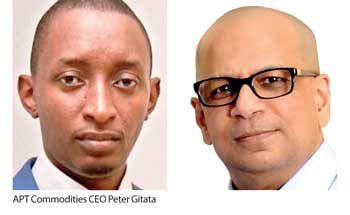 One of Kenya's fastest growing niche tea brands, APT Commodities, has signed up MTI Consulting to further strengthen its internationalization process– as part of the company's aggressive growth strategy.

The project will also have a mergers and acquisitions (M&A) competent that focuses on identifying an international tea company as a strategic investor to work with APT in reaching new markets.

APT Commodities Limited is a fully-owned Kenyan tea trading company with an international outreach in markets such as Pakistan, Kazakhstan, Malaysia and Egypt. The company houses several brands such as Jambo, Hassan (in the Black CTC segment) Sinbad (in the Orthodox segment) and Equator (in the Green Tea segment). APT is a member of the Tea Directorate and East Africa Tea Trade Association.
"The time has come for APT to incubate new ideas and partners in order to stay relevant in this volatile geo political market. Our early success in international markets has inspired to pursue a deeper penetration of international market and do so with a strong technical investor," stated APT Commodities CEO Peter Gitata Macharia.
"Given the current and emerging dynamic in the global tea markets, there is potential for niche tea brands to expand across border by leveraging strategic partners and developing segment-specific value propositions," said MTI Consulting CEO Hilmy Cader.

MTI Consulting is an internationally-networked boutique management consultancy, offering advisory services in strategy, corporate re-structuring, international market entry, feasibility studies, due diligence, corporate finance and M&A.

Since its inception in 1997, MTI has worked on over 620 assignments in over 41 countries, covering a diverse range of industries, clients and business challenges.