---
Dialog Axiata PLC successfully concluded Dialog Awards 2016, its annual employee recognition programme, whilst retaining international management consultancy, MTI Consulting, as an independent judging partner for the sixth consecutive year.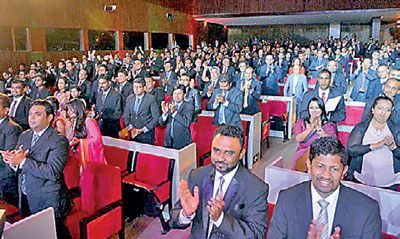 The Dialog Awards, whilst aiming to recognize and reward the contributions and achievements of high-performing individuals and teams, also drives performance excellence towards the reinforcement of Dialog's position in the highly competitive sectors that it operates across.

Established in 1995, Dialog is Sri Lanka's largest technology and telecom provider. In addition to constantly revamping its operations, coverage, products and services, Dialog continues to consistently introduce and improve technologies through its encouragement of top-tier innovation.

Dialog, as the leading mobile operator, faces a significant challenge in ensuring high levels of motivation, especially given the scale of operations and large customer base. Taking these factors into consideration, in 2011, Dialog along with MTI HRM Solutions conceptualized the Dialog Awards – a unique awards programme considered a breakthrough best practice in human resource management.


In addition to providing an independent evaluation of nominated initiatives, MTI assists Dialog in the annual review of the awards process by improving the assessment procedure to better recognize employees.

"The combination of the HRM expertise brought in by an independent external partner, hand on and painstaking involvement of the entire management team of Dialog, including those at the helm, to evaluate proposals put forward by employees from almost every level and the highly transparent process ensures that Dialog Awards is an initiative of world-class calibre," stated MTI CEO Hilmy Cader.

"Emphasis on continuous improvement of the initiative ensures that it reflects the changes in the environment and context within which Dialog operates in."

"The Dialog Awards has evolved into one of the most important events of the company and epitomizes several of Dialog's core values including but not limited to exceptional performance, uncompromising integrity, team work and service from the heart," stated Dialog Axiata PLC Group CEO Supun Weerasinghe.

"Dialog's leadership in Sri Lanka's telecommunications industry is derived in no small measure from the excellence of our people and this initiative, which recognizes the best individual and collective contributions, is a fitting tribute to our employees. MTI has remained a vital partner to the Dialog Awards for six consecutive years, developing and continuously improving the awards process and serving as a referral external evaluator."

Dialog Awards 2016 concluded with an awards ceremony held at the BMICH recognizing exceptional achievements of the organisation's employees in areas such as (but not limited to) cost minimization, revenue generation, service delivery, project execution, innovation and sustainability.

Members of Dialog Axiata's board of directors and the company's senior management were present to handover the awards, congratulate and interact with the winners as well as those present.