---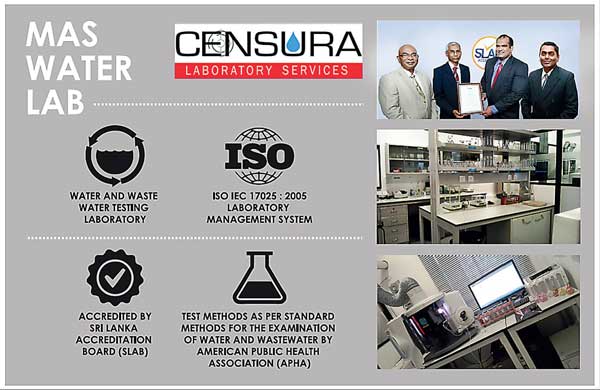 Apparel and fabrics conglomerate MAS Holdings has unveiled a state-of-the-art laboratory that will be dedicated to analysing the water quality across the group as part of its growing commitments to sustainability.

The Censura lab is certified by the Sri Lanka Accreditation Board (SLAB) under ISO IEC 17025:2005. Located inside the MAS Fabric Park in Thulhiriya the CENSURA lab is recognized as a Professional Accredited Laboratory in this field.

The Hydro & Environmental Department of MAS Fabric Park is excited to contribute the services of this lab to all who wish to test their water – wastewater and sludge qualities.
Equipped with state-of-the-art technology such as ICP-OES the MAS CENSURA lab also uses the APHA (American Public Health Association) standard test methods for analysing critical water quality parameters like Arsenic (As) , Cadmium (Cd) , Lead (Pb) , Chromium (Cr) and all others down to the trace levels of ppb. The lab also supports the other Finite Element Analysis (FEA) which paves the way for adequate controls.

Sharad Amalean, Deputy Chairman of MAS Holdings said, "We see huge opportunity for industry to create their own pathways to responsible water consumption. This is our own contribution and we remain committed to sharing our resources, our knowledge and best practices with all those who carry the same passion for sustainability or have the desire to make a real difference in how they do business."