---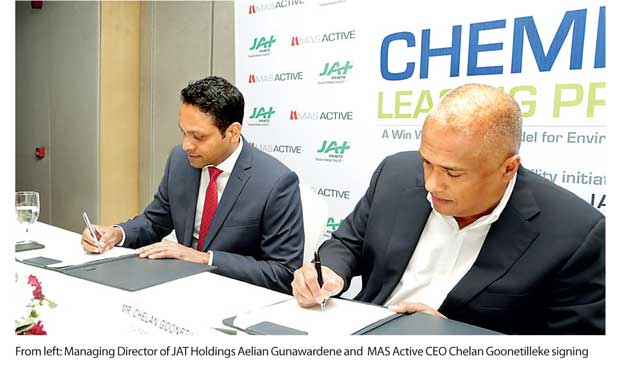 Best known for being the world's first to introduce the chemical leasing model for waste water treatment in 2015, MAS Active Linea Intimo has signed on with JAT Holdings for a first of its kind chemical leasing deal that will see JAT teams providing a paint service instead of simply selling a product.

Reaffirming its long standing commitment towards environmental sustainability and uninterrupted support for innovation, MAS Active joined forces with the National Cleaner Production Centre (NCPC), the national co-ordinating and regulatory authority of Chemical Leasing in Sri Lanka, to forge a tri-partite agreement with JAT Holdings, Sri Lanka's undisputed leader in the furnishing and finishing industry which boasts of an impressive portfolio of products.

As part of a commitment to be zero toxic in all products and processes by 2025, MAS Active Linea Intimo has taken a stand to reduce chemical usage in their painting operation.

CEO of MAS Active Chelan Goonetilleke said "This is one of the many projects we have lined up in achieving the goal of ensuring our products are zero toxic by 2020. We support innovation across the board and we are committed to ensuring that our journey towards sustainability grows from where we began a decade ago."

Managing Director of JAT Holdings Aelian Gunawardene said, "We are proud to be taking the lead in Sri Lanka's first-ever chemical leasing project of this nature. Having always given top priority to innovation, as a growing company, we believe in a commitment towards continuous research and development of products. We believe this is the key to our success and are humbled in being able to further our efforts towards environmental sustainability. Our intention is to further invest in R&D with the objective of providing a vast array of innovative and quality products to JAT's constantly expanding portfolio".

MAS Active CEO Chelan Goonetilleke reiterates "Reducing and removing hazardous chemicals is part of our chemical management journey as a group and we hope this brings more awareness about the toxicity of everyday products we take for granted."

Since its inception in 1987, MAS has evolved into one of the largest conglomerates to operate from Sri Lanka, employing over 88,000 employees in over 50 factories locally and in 16 locations worldwide.
Sharika Senanayake Director Environmental Sustainability at MAS said, "Chemical Management is a major part of MAS's overall group sustainability strategy. These are long term commitments we have put much thought into and the journey has already begun. We hope we can shine a light on innovative solutions that will help us fight climate change and inspire more industries to strive to make positive impact on the environment and not simply look to reduce harm."

With JAT Holdings moving forward making headway in innovative environmentally sustainable solutions, its prolific growth over the years has positioned it as a market leader in the furnishing and finishing industry.