---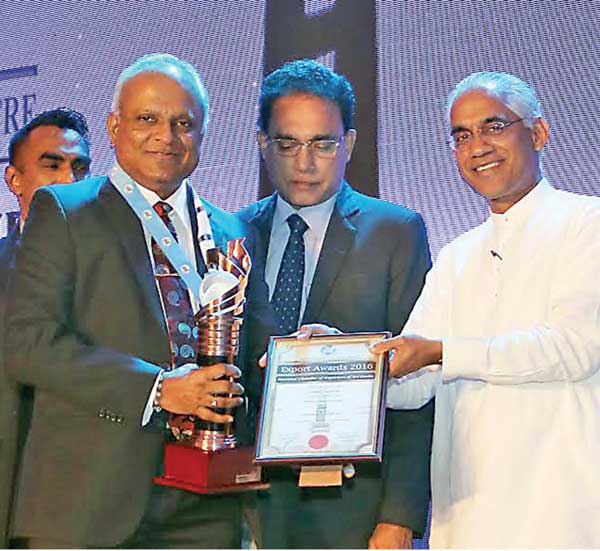 Indhra Kaushal Rajapaksha, Chairman / Managing Director of the Kalhari Group of Companies receiving the Bronze Award in the Industry Sector – Small Category, from Minister Eran Wickremaratne
A Sri Lankan company is poised to make a major step in resolving the waste recycling problems of Sri Lankan corporates in the fabric and rubber industries.

The Kalhari Group which won a Bronze Award in the Industry Sector (Small) at the 24th NCE Export Awards, has consistently won outstanding recognition for its performance since its entry into the recycling and export of waste. Kalhari's success is due to the dedication of its staff under the dynamic leadership of the company's Chairman / Managing Director, Indhra Kaushal Rajapaksha.
He is both a visionary and pragmatic leader and is always on the lookout to widen his horizons. "At Kalhari we strive to satisfy our customers by providing goods and services to exacting standards, and to empower rural Sri Lanka by protecting the environment and providing as many people as possible with a livelihood," Kaushal Rajapaksa explained.

"As consumerism spreads across the world, waste recycling has become one of today's most pressing needs," he continued. "Fifty years ago, waste could be safely buried or incinerated. Today the situation is quite different because of the varied composition of waste as well as the huge quantities." He said that burying waste could impact on both the soil and groundwater, while incinerating would release toxic gases to an atmosphere that is already under pressure.
"The solution is two-fold. We must be careful about our consumption and we must be careful about how our garbage is disposed. For our part, we aim to provide the best recycling options so that Sri Lanka could tackle the problem before it gets out of hand," he added.

The Kalhari Group of Companies headquartered in the village of Heiyantuduwa, seventeen kilometres from Colombo, has factories in Heiyantuduwa, Mahara and Minuwangoda. Kalhari began operations in 2003 with the recycling of PET bottles and has now grown to a group of four companies engaged in the export of recycled tyre waste, fabric waste, rubber waste, post-consumer PET bottles, electronic waste and steel dust, while another company is engaged in the stitching of shoe-uppers for some of Sri Lanka's top brands.
Rajapaksa is also a director of Building A Future Foundation - an organisation dedicated to the training of youth in ocean based activities; as well as Marina Lanka – a company set up with foreign collaboration for the water-front development of resorts and hotels, and canal based marina development.

Kaushal Rajapaksa was twice the recipient of the Asia Pacific Entrepreneurship Award. In 2014, Rajapaksa received the prestigious Merit Award from the Plastic and Rubber Institute of Sri Lanka for his significant contribution towards the development and growth of country's Polymer Industry.
"These awards are an encouragement for us to reach even higher," he said. "Each time we win an export award, we feel extremely happy because it is recognition of our contribution to the country."
As an active member of Lions District 306 B2, Kaushal Rajapaksha not only contributes to the community but also encourages his staff to share their success generously with others. He is a Charter Member of the Lions club of Biyagama North and having held several positions of responsibility in the club, is currently the District Treasurer.

"Being in the world's largest service club organisation has given me a great opportunity to help rural communities in Sri Lanka," Rajapaksha stressed. "As we strive for success in business, the opportunity to give back to the community that the lions have provided me is something I will always be grateful for. While the export awards are recognition of our success in business and naturally make me very proud, the ability to give better sight to some people whom we may never meet again or to give a helping hand to disadvantaged students through the lions gives me immense personal satisfaction."