---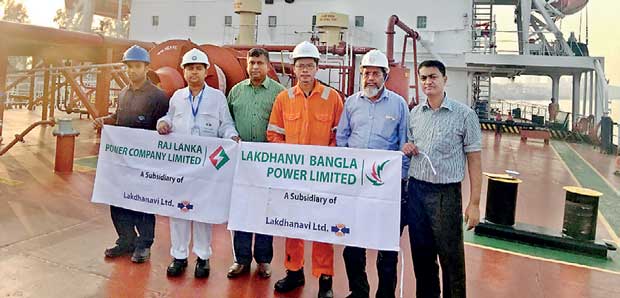 The two subsidiary companies of Lakdhanavi Ltd and LTL Holdings (Pvt) Ltd, namely; Raj Lanka Power Company Ltd (RLPCL) and Lakdhanavi Bangla Power Ltd (LBPL) which operate two thermal power plants with the capacity of 104 MW in Bangladesh, commenced their direct import of furnace oil from Singapore market recently after receiving approvals from the Ministry of Power, Energy, and Mineral Resources (MPEMR) of Bangladesh and Bangladesh Power Development Board (BPDB).
Lakdhanavi Ltd is the power generating subsidiary of LTL Holdings (Pvt) Ltd which own and operate several power plants in Sri Lanka and Bangladesh.
Accordingly, both subsidiaries of Lakdhanavi Ltd will now import around 100,000 MT of furnace oil annually for these 02 power plants to generate the contracted capacity of electricity for the next 13 years. With this initiative, the two subsidiaries shall have the opportunity to operate power plants efficiently with high quality furnace oil which will be purchased at competitive market prices from Singapore oil market to reduce the unit cost of electricity and enhance the profitability with the additional service charges offered by the Bangladesh Power development Boardfor furnace oil importing Independent Power Producers (IPP).This step is considered as a win-win initiative for the LTL subsidiaries and the Bangladesh Power Development Board.
LTL Holdings has been active in the Bangladesh power sector since 2010 and they have constructed two 100 MW power plants under Engineering, Procurement and Construction (EPC) contracts for Orion Group, Bangladesh. Thereafter, Lakdhanavi Ltd won 02 international tenders floated by BPDB in 2011 to set up 02 thermal power plants in the capacities of 52.2 MW each in Natore and Comilla, Bangladesh. For that purpose Lakdhanavi Ltd incorporated two subsidiaries to buildthose two power plants under Build, Own & Operate (BOO) basis to sell electricity to BPDB for 15 years as Independent Power Producers (IPPs).
LTL Holdings has participated in another international tender floated by BPDB in August 2016 to set up 100MW thermal power plant in Feni, Bangladesh under BOO basis and hopeful that BPDB will award the Letter of Intent (LOI) during the first quarter of 2017.