---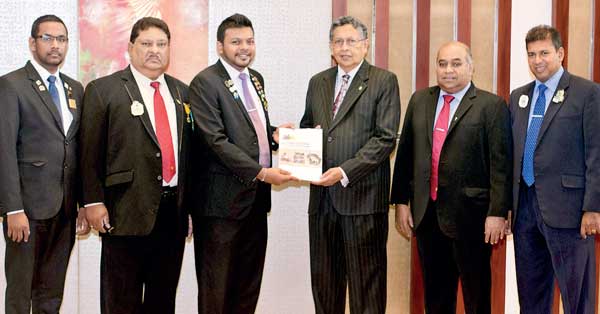 First LEO ISAAME Chairman and Leo Multiple District President Leo Rajitha Abeygunasekara handing over the manifest of Leo ISAAME Forum 2016 to Lions Clubs International Past International President and former Commercial Bank Chairman Mahendra Amarasoriya in the presence of 44th Lions ISSAME Forum Chairman and Isuru Engineering Chairman Lion Mahesh Pasqual, Lions Multiple District 306 Multiple Council Chairman Lion Duminda Munasinghe, Leos Multiple District Chairman and former John Keels PLC Vice President Lion Sunil Dharmarathna and LEO ISAAME 2016Event Coordinator Leo Shanka Samarasinghe
LEO ISAAME Forum 2016, an international youth conference, was launched at Cinnamon Grand
under the theme of 'Excellence through innovation'.

ISAAME is the constitutional area of Lions Clubs International, which stands for India, South Asia, Africa and the Middle East. This year, Lions Multiple District 306 is hosting for the 44th Lions ISAAME forum and 2500 foreign delegates and parallel to this forum, Leos of Sri Lanka (Leo MD 306) are hosting the first-ever historical LEO ISAAME Forum in Colombo from November 30, 2016 to December 5, 2016.

Creating the social climate for creativity and innovation of youth is the priority of LEO ISAAME Forum and LEO ISAAME Forum Chairman, Leo Multiple District President 306 Rajitha Abeygunasekara launched their vision officially and handed over the manifest of LEO ISAAME Forum to Lions Clubs International Past International President and former Commercial Bank Chairman Mahendra Amarasoriya and Lions Leaders at the official ceremony, which was held at Cinnamon Grand.

Three hundred foreign youth Leo delegates and 150 local youth Leo delegates will be participating in this five-day forum.

"This LEO ISAAME Forum is an important milestone for the Sri Lankan youth and also to world youth for transforming their vision a reality," said Amarasoriya at the ceremony.

"This Leo forum will help our youth exploring the world of opportunities," Abeygunasekara said. "This will help to generate leaders who are looking beyond the 2020 era," he added.