---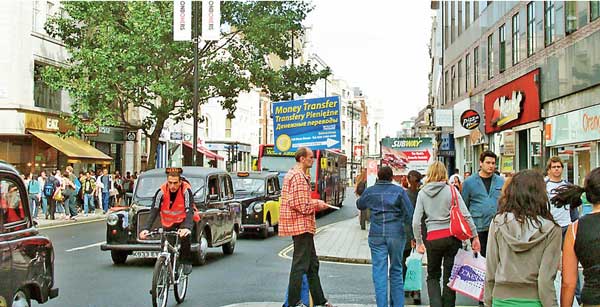 AFP - British business activity sank in July to its lowest level since April 2009, a survey showed yesterday in the first indication of economic contraction since the shock EU exit vote.

The preliminary composite purchasing managers' index (PMI) by the research Markit group sank to 47.7 points in July, down from 52.4 in June. A reading under 50 indicates contraction in private sector activity. The survey -- regarded as a key early indicator of economic activity before official statistics are published -- is the first major evidence of economic fallout after Britons voted to leave the European Union in a referendum on June 23. "July saw a dramatic deterioration in the economy, with business activity slumping at the fastest rate since the height of the global financial crisis in early-2009," said Chris Williamson, chief economist at Markit.

"The downturn, whether manifesting itself in order book cancellations, a lack of new orders or the postponement or halting of projects, was most commonly attributed in one way or another to Brexit." Markit added that the survey signalled a 0.4-percent contraction in the British economy in the third quarter, or three months to September.

"Much ofcourse depends on whether we see a further deterioration in August or if July represents a shock-induced nadir," added Williamson.
"Given the record slump in service sector business expectations, the suggestion is that there is further pain to come in the short-term at least."
Markit added the survey showed that the economy had "opened the third quarter on a weak footing".
Output and new orders fell in both the manufacturing and service sectors during July.
"A number of firms linked this to ongoing uncertainty pre- and post-EU referendum, with reports especially prevalent among service providers," added Markit in a statement. "The downturn in services was also more marked than that seen in manufacturing. Services activity and new orders both fell at the quickest rates in over seven years."
The collapse in the British pound following the Brexit vote had meanwhile pushed up manufacturers' costs.

"The downside of the exchange rate was a steep rise in manufacturers' input prices, mainly due to higher import costs," it said.

"The rate of purchase price inflation hit a five-year record, with the extent of the acceleration among the steepest in the survey history." The data was published after the International Monetary Fund slashed its global and British economic growth forecasts for 2016 and 2017 earlier this week -- and blamed uncertainty created by Brexit.

Argument for swift action
Britain's new finance minister Philip Hammond meanwhile declared this week that it was up to the Bank of England (BoE) to respond to the economic "shock" arising from Brexit. Williamson added yesterday that the new PMI data could persuade
policymakers to act.

"With policymakers waiting to see hard data on the state of the economy before considering more stimulus, the slump in the PMI will provide a powerful argument for swift action," noted Williamson. The BoE kept its key interest rate at 0.50 percent last week, confounding expectations for a reduction -- but flagged a possible August cut in response to Brexit. Policymakers also signalled that the exact size and nature of any stimulatory measures would be determined at next month's monetary policy gathering, due on August 4.The impact of Brexit on the eurozone was much more muted, however, with Markit's preliminary composite PMI for the 19 nations that share the euro dipping to 52.9 points, which was however an 18-month low. Williamson said the eurozone economy "showed surprising resilience in the face of the UK's vote to leave the EU and another terrorist attack in France."