---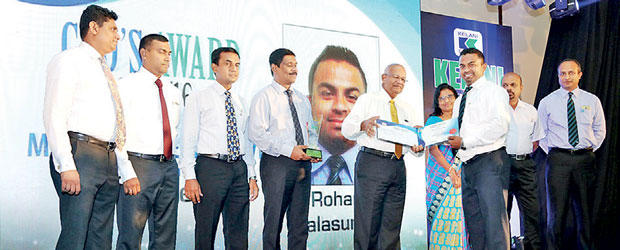 Best Sales Executive of the Year (from left) Brand Development Manager Channa Jayasinghe, Sales Manager Project Suranga Pathirana, Marketing Manager Exports Devinda Lorensuhewa, General Manager Marketing Anil Munasinghe, Kelani Cables PLC Director/CEO Mahinda Saranapala, winner Roshan Balasuriya, Chief Financial Officer Hemamala Karunasekara, General Manager Operaation Upul Mahanama and Sales Controller Ralph Roshan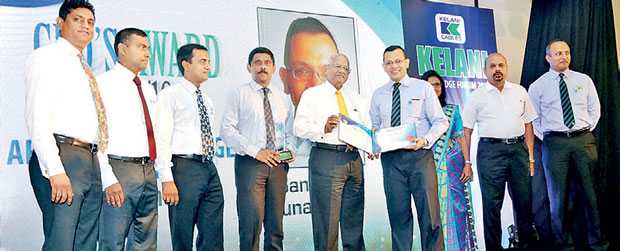 Best Zonal Sales Manager the Year (from left) Brand Development Manager Channa Jayasinghe, Sales Manager Project Suranga Pathirana, Marketing Manager Exports Devinda Lorensuhewa, General Manager Marketing Anil Munasinghe, Kelani Cables PLC Director/CEO Mahinda Saranapala, winne, Sanjeewa Gunatilleke, Chief Financial Officer Hemamala Karunasekara, General Manager Operation Upul Mahanama and Sales Controller Ralph Roshan
Kelani Cables PLC, Sri Lanka's number one brand in secure electrical and communication cables, honoured its outstanding sales persons with the CEO's Award.
The major annual award ceremony was held for the fifth consecutive year at Water's Edge with the participation of Kelani Cables PLC Director/CEO Mahinda Saranapala.
Sanjeewa Gunatilleke clinched the award for the Best Zonal Sales Manager while Roshan Balasuriya secured the Best Sales Executive award. The two employees were offered cash awards wrapped with foreign trips for exceeding sales targets of the company set for 2015/2016 to bring in a record sales volume.
Saranapala commenting on the CEO's Award said Kelani Cables does business with the theme; '480 Hearts, 1 beat' and the backbone of the company is its sales force.
"Employees are the backbone of our company. Hence, our foremost responsibility is to recognize efforts of these employees annually who contribute towards the success of the company. A successful organisation's responsibility is to recognize its employees who contribute towards the betterment and sustainability of the organisation. CEO's award is presented by Kelani Cables to two top performers annually who contribute towards sales excellence. This year's award winners Sanjeewa Gunatilleke and Roshan Balasuriya have exceeded their targets to record massive individual sales volumes. I wish them very best on their achievements on behalf of the entire company," commented the CEO. Kelani Cables PLC is a 100 percent Sri Lankan company serving the nation for 47 years manufacturing electrical and communication cables. The company achieved 'Super Brands' status in the electrical and telecommunication sector in 2008 for professional supremacy it demonstrated in the electrical and communication cables sphere. In 2012, Kelani Cables PLC clinched the Bronze award for the excellent business brand category at the SLIM Brand Excellence. It clinched gold at the SLIM Brand Excellence once again in 2013 for the same category. The company secured gold at the SLITAD People Development – 2013 award ceremony for the contribution it has made towards training and development of the work-force plus up keeping their welfare.
Kelani Cables PLC is the proud recipient of ISO 9000:2008 certification for quality, ISO 14001:2004 for better environment management, National Standards award and the Gold winner of Taiki Akimoto 5S award.
In 2015 Kelani Cables PLC was conferred with Asia's Best Employer Brand award. Kelani Cables was the sole organisation in the electrical and communication cable manufacturing sphere recognized for sustainable development at the National Green Awards in 2015. The company also bagged the SLIM Brand Excellence Silver award in 2015 for the best corporate social responsibility (CSR) brand name and B2B Brand.