---
At the 50th Annual General Meeting of the International Chamber of Commerce Sri Lanka (ICCSL) Keerthi Gunawardane was re-elected as Chairman.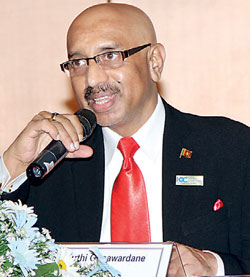 He has been a successful past President of the Sri Lanka Association of Printers; he managed to negotiate with the government authorities to make the paper duty free and made many changes in the printing industry. This created many opportunities for local printing companies to improve their quality and export their products to the global market.
Speaking on his reappointment as ICCSL Chairman, Gunawardan said, "I am deeply honoured and privileged to be re-elected as Chairman of the national body of the International Chamber of Commerce (ICC). It is the world's largest chamber network, which has over 6.5 million members in 130 countries. The United Nations (UN) General Assembly granted the Observer status to the ICC in December last year."
He said that the implementation of the trade facilitation agreement (TFA) will serve to support and strengthen Sri Lanka's current trade facilitation efforts, further promoting trade-led growth and job creation and by making it easier, quicker and less costly to import and export, the Sri Lankan business community will also be better able to tap into global supply and value chains.
"The TFA would have a bigger impact on international trade than the elimination of all the world's remaining tariffs. Recent World Trade Organisation (WTO) studies suggest that improvements in border administration throughout the world could boost global gross domestic product (GDP) by US $ 1 trillion per year.
The biggest benefits of the TFA would be for small and medium enterprises (SMEs) and developing and emerging economies, where businesses and consumers would reap the benefits of greater integration into global markets," he added.
Gunawardane noted that Asia has become the largest investment zone in the world but Sri Lanka has not attracted enough foreign direct investments (FDIs) compared to other Asian countries.
During the year 2016, the ICC launched a Foundation Certificate in International Business (FCIB), which was launched to target young professionals, conducted a series of seminars with the Inland Revenue Department, SAARC Arbitration Council and Federation of Chambers of Commerce and Industry of Sri Lanka (FCCISL) to create awareness about the regional arbitration facilities for business, a session on 'WTO TFA and its relevance for Sri Lankan businesses' and also with the RAK Investment Authority of UAE about opportunities in both countries.
A number of landmark agreements were also signed; ICC International to bring ICC products to Sri Lanka much faster, a Commercial Agency Contract with the ICC Academy to pave the way for the introduction of ICC Academy programmes and services for the benefit of bankers and business professionals in Sri Lanka during 2016.
He presently serve as Chairman Advisory Committee to the Export Development Board on Printing and Packaging and Vice President of Sri Lanka Printers Co-operative Society. He is an Executive Council Member of Federation of Chambers of Commerce and Industry Sri Lanka (FCCISL) and South Asian Association for Regional Cooperation (SAARC).